France's Yellow Vest Protesters Defy Ban on Gatherings in Several Cities (+Video)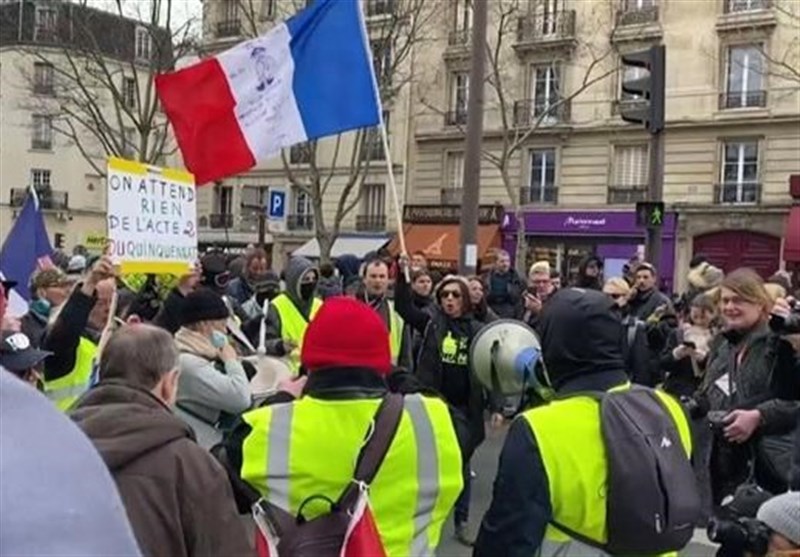 TEHRAN (Tasnim) – Several hundred yellow vests defied the ban on demonstrations in the cities of Montpellier, Nantes, Toulouse, Bordeaux, Lyon and Saint-Nazaire.
The rallies gave rise to numerous verbalizations, a few scuffles with the police took place in Montpellier.
From Montpellier to Nantes, a few hundred yellow vests braved the ban on demonstrations on this first Saturday post-containment, the police often carrying out verbalizations, AFP journalists found. "There is sanction for all gatherings of more than ten people" in the context of the coronavirus epidemic, reminded in the morning the Minister of the Interior Christophe Castaner.
"Irresponsible on the part of the yellow vests"
In Toulouse and Nantes, which had experienced strong demonstrations in 2018 and 2019, the yellow vests held small scattered groupings in the city center in the early afternoon, in the presence of large police forces, who proceeded to verbalizations. In Bordeaux, a former bastion of the movement, the prefecture counted around fifty demonstrators.
In the capital of Occitania, traders and yellow vests faced each other. "It is irresponsible on the part of the yellow vests to demonstrate with the risks of contamination and irresponsible to block the shops, which are on respiratory assistance", declares Philippe Léon, member of an association of traders in the city center.
The mobilization was a little more important in Montpellier where around 350 yellow vests gathered on the Place de la Comédie, quickly surrounded by the police. In a crowd, police beat the demonstrators with a baton. A woman was injured in the head, requiring the intervention of firefighters, found an AFP journalist.
There were 300 in Lyon on the banks of the Rhône. While a majority of them wore masks, social distancing was difficult for many to respect. The demonstrators, including many young people dressed in black, were unable to go up the platforms in the direction of Place Bellecour, barred by a cordon of police and gendarmes. In Saint-Nazaire, some 130 people, yellow vests and figures from the Nantes ultra-left, gathered in the early afternoon. Almost half were fined for failing to comply with the ban on demonstrations, police said.