New Video Shows George Floyd Being Dragged Out of Car before Murder by Police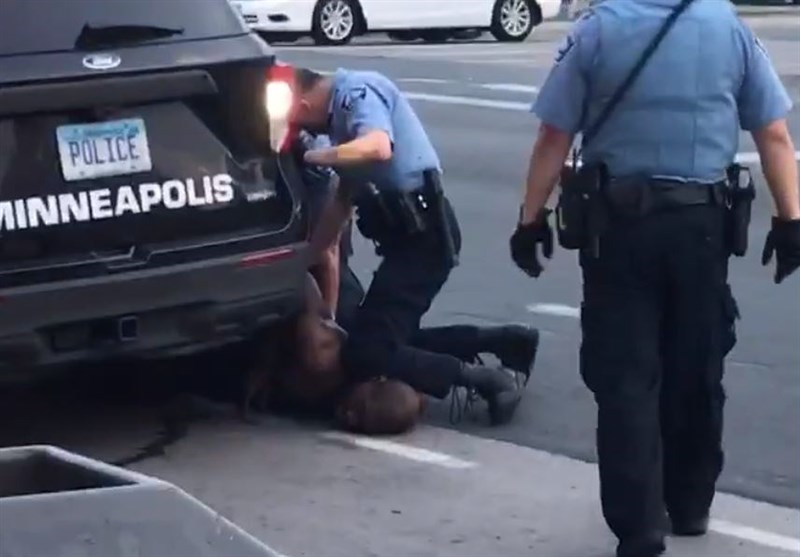 TEHRAN (Tasnim) – A new footage has emerged showing the moment George Floyd was pulled from vehicle and placed in handcuffs in Minneapolis.
It shows the moment George Floyd was pulled from his car by officers during his arrest, moments before he lost consciousness and died after a white officer kneeled on his neck for five minutes during an altercation.
Floyd passed out after officers arrested him on Monday for allegedly trying to use forged documents at a local deli. He later died in hospital in an incident which has sparked outrage across the US and prompted thousands to protesters to take to the streets.
The new video shows the moment Floyd was forcibly removed from his vehicle by two officers from the Minneapolis Police Department and manhandled as he was placed in handcuffs on 38th and Chicago.
The footage, obtained by FOX 9, shows officers wrestling with Floyd as they attempt to place him in handcuffs.
CCTV footage from a nearby restaurant obtained by CBS News shows part of the altercation between Floyd and the officers on the scene.
Floyd is handcuffed in the footage and appears to be complying with the officers as they escort him to the waiting police car. A police statement following the incident alleged that Floyd had physically resisted arrest.
Moments later the 46-year-old was pinned to the floor by an officer and in disturbing footage can be heard pleading with the cop to stop, saying 'please, please, I can't breathe' and 'My stomach hurts. My neck hurts. Everything hurts.'
Witnesses at the scene urged the officer to stop, with one pointing out that the suspect was not resisting arrest.
Four members of the Minneapolis Police Department who were involved in Monday's incident have now been fired, and the FBI and state law enforcement authorities have launched an investigation into the man's death.
of defiant protesters took to the streets to demand justice for Floyd on Tuesday, and were met with Minneapolis cops in riot gear firing rubber bullets.