Trump Signs Order That Could Punish Social Media Companies for Content Policing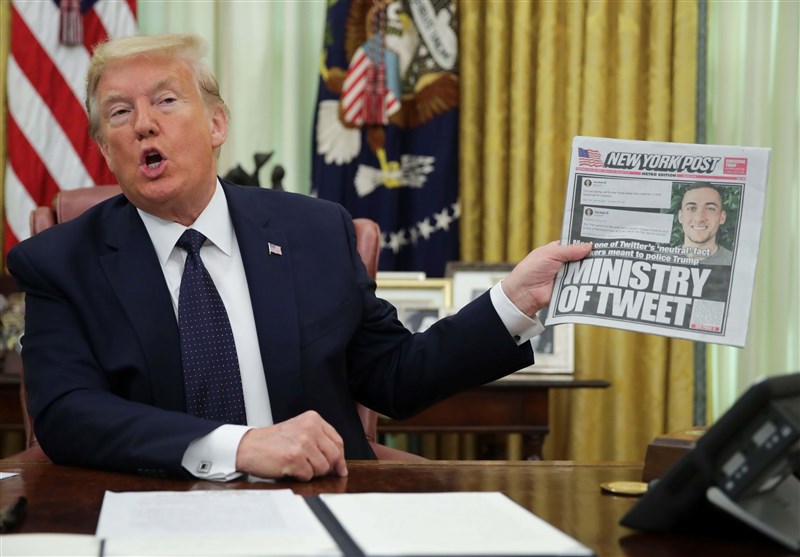 TEHRAN (Tasnim) – US President Donald Trump on Thursday signed an executive order threatening penalties against social-media companies over allegations of bias against conservatives.
President Trump on Thursday signed an executive order that could open the door for the US government to assume oversight of political speech on the Internet, a broadside against Silicon Valley that a wide array of critics derided as a threat to free speech, WashingtonPost reported.
The new directive seeks to change a federal law that has spared tech companies from being sued or held liable for most posts, photos and videos shared by users on their sites. Tech giants herald these protections, known as Section 230, as the bedrock of the Internet. But Trump repeatedly has argued they allow Facebook, Google and Twitter to censor conservatives with impunity — charges these companies deny.
"We're here today to defend free speech from one of the greatest dangers," Trump said before signing the document.
The order signed Thursday encourages the Federal Communications Commission to rethink the scope of Section 230 and when its liability protections apply. The order also seeks to channel complaints about political bias to the Federal Trade Commission, an agency that the White House has asked to probe whether tech companies' content-moderation policies are in keeping with their pledges of neutrality.
The order additionally created a council in cooperation with state attorneys general to probe allegations of censorship based on political views. And it tasked federal agencies with reviewing their spending on social media advertising.
While Trump has threatened to penalize tech companies for years, his signing of the order Thursday came in response to a decision by Twitter earlier in the week to mark two of his erroneous tweets with fact-checking labels. The small move set off a firestorm of tweets by the president threatening social media companies with regulations and other punishments.
Trump's directive now could set the stage for federal regulators to write new rules and issue new punishments for companies deemed to exhibit political bias. Depending on how the order is carried out, it poses the potential for wide-ranging consequences for a much broader segment of the Internet beyond just the social media giants, potentially affecting every website, app or service where users congregate online with new liability for the content on their platform.
Already, tech companies are discussing whether to fight back with a lawsuit challenging the executive order, according to two people familiar with the deliberations who spoke on the condition of anonymity because no decision has been made.
Legal experts said the directive will almost certainly be challenged in court, arguing it threatens to undermine the First Amendment. A wide array of critics in Congress, the tech industry and across the political spectrum also accused the White House of deputizing government agencies to carry out Trump's personal vendettas.
For now, though, Trump's order may prove difficult or impossible to enforce, experts said even before the president had signed it. But it could have far-reaching consequences, amplifying the Trump administration's power over social media companies as the country gears up for the 2020 election, some critics cautioned.
The executive order touched off widespread opposition, uniting Democratic lawmakers, digital experts, longtime conservative-leaning advocacy groups and a bevy of free speech activists, most of whom cited free speech protections. Many agreed it could amount to government interference in private speech, a violation of the First Amendment.