Over 40 Arrested in NYC as Nationwide Protests over Black Man's Death Becomes Violent (+Video)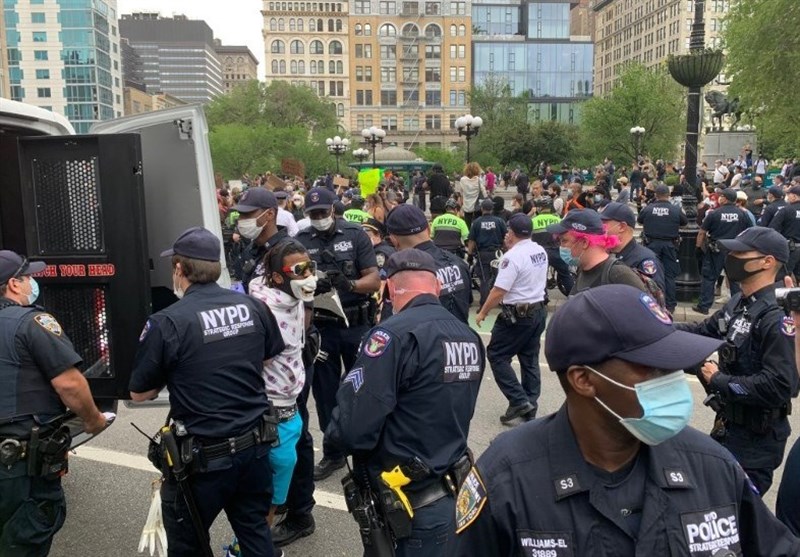 TEHRAN (Tasnim) – More than 40 protesters were arrested in New York City after clashing with police over the death of George Floyd in Minneapolis earlier this week.
The Justice for George Floyd protests started Thursday evening, with crowds of people gathering in Manhattan's Union Square chanting different refrains against police violence, including "I can't breathe" — the words Floyd said while he was handcuffed and pinned to the ground for almost 10 minutes, the officer's knee on the back of his neck.
The phrase became a rallying cry after Eric Garner said it repeatedly while being taken down in a chokehold by NYPD officers on Staten Island in 2014. There were references to Garner and even Rodney King during the protest Thursday.
Around 4:15 p.m., a scuffle broke out involving some pushing and shoving between demonstrators and police, who were trying to keep the streets cleared for traffic and the crowd contained to inside the square. About 30 minutes later, another shoving match broke out. As tensions between protesters and police continued to rise, a third fight broke out after 5 p.m., more intense and aggressive than the previous two.
The protest was the latest example of the department's struggles to enforce the state's emergency coronavirus regulations, which prohibit the assembly of more than 10 people and require people to wear masks and stay at least six feet apart. Some protesters appeared to have masks on while others did not, but the tight grouping at the park did not allow for any sort of social distancing at a time when the city's COVID-19 case count continues to rise. NYC is the only area in the state that still remains on a full shutdown under Gov. Andrew Cuomo's PAUSE order.
Some demonstrations at Union Square ended around 5:30 p.m., with police giving chase to some members of the crowd while attempting to keep Broadway clear. However, there were still some protests continuing throughout the streets of Lower Manhattan as the night wore on, with protesters throwing objects. All were said to be under control, according to police.
A total of 40 people had been arrested throughout the night, the NYPD said.
Video showed at least one demonstrator being clubbed and others being wrestled to the ground as some protesters shoved officers and screamed insults.
Earlier on Thursday, NYC Mayor Bill de Blasio tweeted that Floyd was "murdered in broad daylight," adding, "If George was white, he would be alive right now."
Another rally in the #JusticeforGeorgeFloyd movement is planned for Friday in Foley Square at 4 p.m.