IRGC Quds Force Chief: US Navy Ship Fire Result of Washington Crimes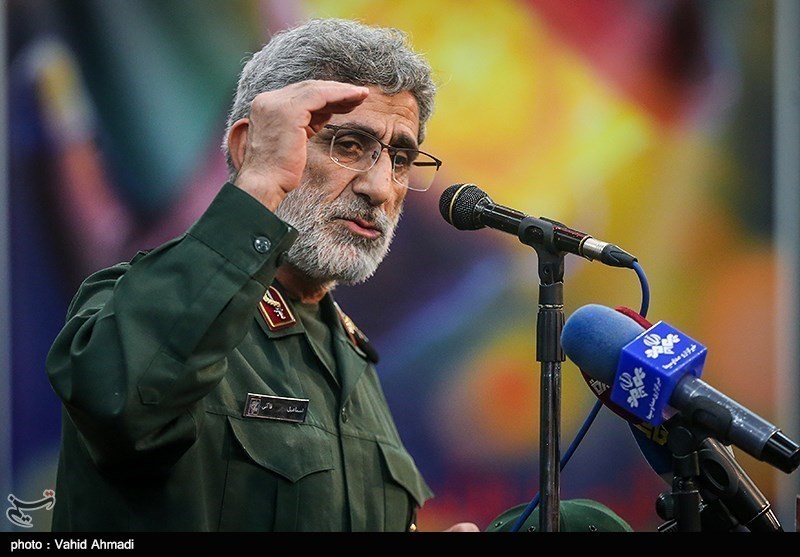 TEHRAN (Tasnim) – Commander of the Quds Force of Iran's Islamic Revolution Guards Corps (IRGC) described an accident involving USS Bonhomme Richard naval ship as the result of the US crimes committed by the US.
In remarks in a gathering of the axis of resistance commanders on Tuesday, Brigadier General Esmaeil Qa'ani said the accident involving the American warship was a response by American elements to the US crimes.
"What has happened in the US today, particularly the warship incident, is a result of the US government's action, behavior, and crimes," he said.
The top commander also advised the Americans not to blame it on anybody and not to accuse others, since it was a fire set by the Americans themselves.
"This incident that was a response to your crimes has taken place by your own elements. God would punish you with your own hands," the general told the American officials.
He further warned that "very hard days and severe incidents" lie ahead for the US and the Zionist regime, adding, "The US army has become weary and exhausted, and its gears have turned into scrap metal."
Dozens of people have suffered injuries after an explosion and fire on board USS Bonhomme Richard warship at a US naval base in San Diego on Sunday.
The amphibious assault ship remained largely shrouded in thick, acrid smoke on Monday as the vessel began listing to its starboard side.
The fire, accompanied by at least one large explosion, erupted Sunday morning in the lower cargo hold of the 844-foot-long (257 meter) ship, docked for routine maintenance at its home port at US Naval Base San Diego.