Iranian Army, IRGC Reaffirm Invincible Unity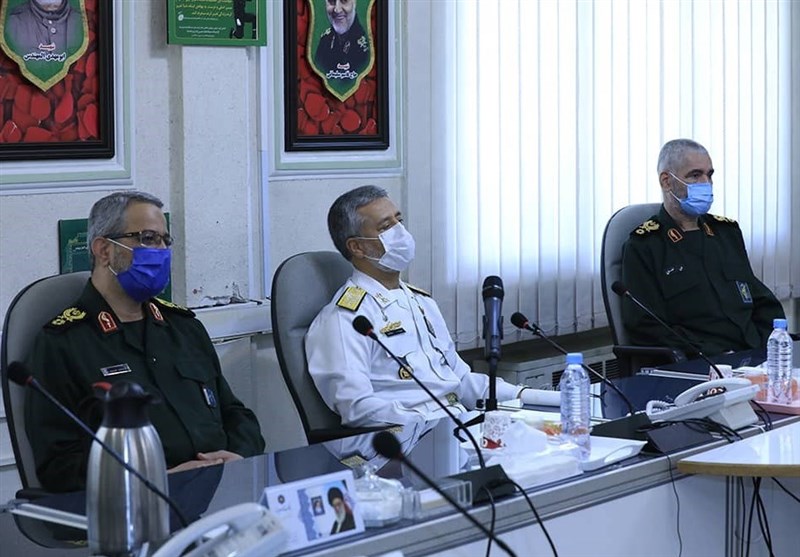 TEHRAN (Tasnim) – Two senior Iranian commanders highlighted the unbreakable solidarity between the Army and the Islamic Revolution Guards Corps (IRGC), saying the enemies could never create division among Iran's military forces.
The Army and IRGC commanders held a meeting in Tehran on Monday to coordinate plans for the 40th anniversary of the beginning of the Sacred Defense (1980-1988 Iraqi-imposed war on Iran).
In the gathering, Deputy Chief of Army for Coordination Rear Admiral Habibollah Sayyari said the unity and fraternity between the Army and the IRGC are unbreakable.
He said success has been guaranteed whenever there has been internal solidarity in Iran, such as during the war imposed by Iraq in the 1980s, in the struggle with the global arrogance, or in other political and economic arenas.
Sayyari also warned of the enemy's smart plots to harm the unity within the Iranian Armed Forces, stressing that the Army and the IRGC are like a united fist against the adversaries.
In comments in April 2018, Leader of the Islamic Revolution Ayatollah Seyed Ali Khamenei commended Army Commander Major General Mousavi for his emphasis on unity among all Iranian Armed Forces, describing such a stance as a sign of the commander's executive intelligence.
In 2016, Ayatollah Khamenei praised the Iranian Armed Forces for employing a combination of military effectiveness and spiritual motivations، urging an incessant push to strengthen those capabilities.
The Armed Forces belong not to a specific individual or faction, but to the nation and country, protecting the national security, the Leader said.