Lebanon President Accepts Govt. Resignation after Beirut Blast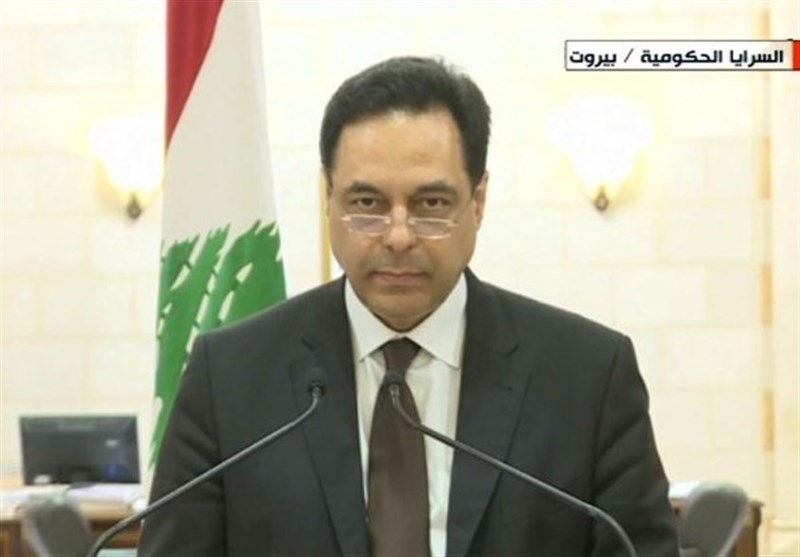 TEHRAN (Tasnim) – Lebanese President Michel Aoun accepted Prime Minister Hassan Diab's resignation, and asked the government to stay on in a caretaker capacity until a new cabinet was formed.
Tensions have been boiling over in the country following last week's massive explosion at Beirut's port that killed some 200 people and wounded 6,000 others, according to the latest tally.
"This crime" was a result of corruption that is "bigger than the state", Diab said in a televised statement, adding that he was taking "a step back" so he could stand with the people "and fight the battle for change alongside them".
"I declare today the resignation of this government. May God protect Lebanon," he said, repeating the last phrase three times, according to al-Jazeera.
The August 4 disaster, which was caused by highly explosive ammonium nitrate that was stored at Beirut's port for more than six years, has fueled popular anger and upended politics in a country already struggling with a major economic crisis.
Most Lebanese blame their leadership's corruption and neglect for the explosion, which has caused damage to the extent of an estimated $15bn and left nearly 300,000 people homeless.
Since October, there have been demonstrations demanding the departure of the entire leadership over entrenched corruption, incompetence and mismanagement.
Diab's government was formed after his predecessor, Sa'ad Hariri, stepped down under pressure from the protest movement. It took months of bickering among the leadership factions before they settled on Diab.
Now the process must start again, with Diab's government in a caretaker role as the same factions debate a new one.