Resistance Sole Way to Liberate Palestine: Velayati
September, 29, 2020 - 17:10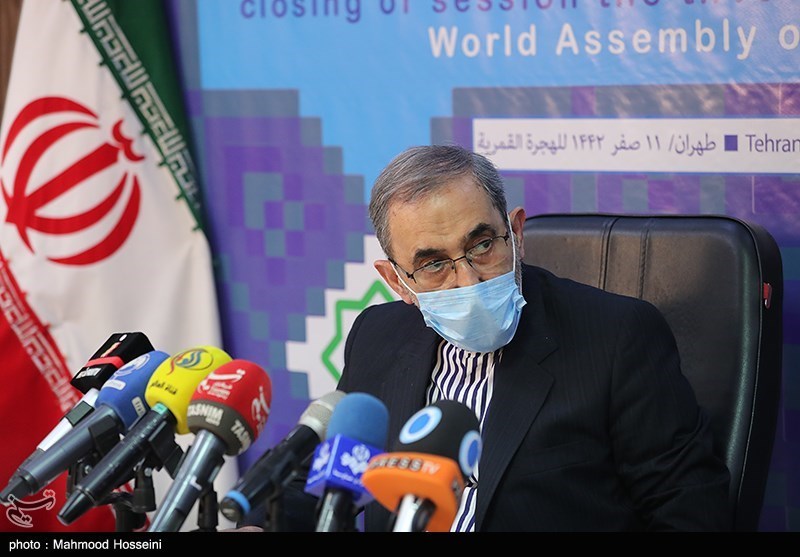 TEHRAN (Tasnim) – Secretary-General of the World Assembly of Islamic Awakening Ali Akbar Velayati described resistance as the only option for liberating Palestine and thwarting American and Israeli plots.
In an address to a follow-up session of the Supreme Council of the World Assembly of Islamic Awakening, held as an extraordinary meeting via videoconference at the central office of the Tasnim News Agency in Tehran on Tuesday, Velayati described resistance as the only way to liberate Palestine from Israeli occupation.
He also noted that the concept of resistance, created after the victory of the Islamic Revolution in Iran, has defeated the arrogant plots and has resulted in Muslim unity across the globe.
Resistance has led to the defeat of the plots hatched by the US and its allies, such as the Greater Middle East, thwarted the proxy wars, and resulted in the failure of the Zionist regime's military action against the Palestinian people's Intifada, Velayati added.
He also highlighted the failure of the US-initiated deal of the century and Washington's subsequent attempts to cover up its defeats in the region, saying the US and Israel are trying to deceive the public opinion through the announcement of normalized ties between the Zionist regime and a number of regional states.
The puzzle of treason against Palestine and betraying the cause of Palestine will ultimately result in the domino of fall of the puppet rulers in the region, as the awakened, pious and freedom-seeking nations will stand against the reactionary regional regimes with prudence and insight, Velayati underlined.
The Secretary-General of the World Assembly of Islamic Awakening also noted that 50 years of resistance in Palestine and Lebanon and 20 years of direct struggle against the Zionist regime, which had dreams of ruling over regions from the Nile to the Euphrates, have made the Zionist regime beleaguered inside the separation walls, like a spider entangled in its web.