US Flag Burned As Clashes Erupt between Pro, Anti-Trump Protests in Boston (+Video)
October, 19, 2020 - 12:03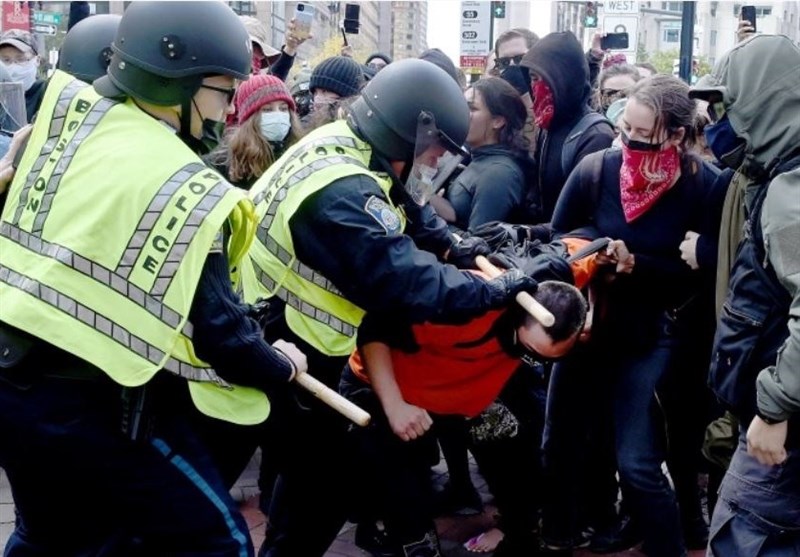 TEHRAN (Tasnim) – US flags were burned during clashes between supporters and opponents of US President Donald Trump who were seen rallying in Boston's Cobley Square on Sunday.
A loud counterprotest against conservatives and Trump devolved into skirmishes with police who handcuffed and removed multiple people from the rancorous scene in Copley Square on Sunday, the Boston Herald reported.
The tense clash was sparked by dueling rallies along Dartmouth Street — with about 50 supporters of Super Happy Fun America delivering a series of pro-Trump and anti-Democrat speeches on the sidewalk in front of Boston Public Library, and counterprotesters, who numbered about 150, across the street trying to drown them out with chants and drums.
After counterprotesters moved barricades set by police between the two sides, at least two counterprotesters were removed from the scene in handcuffs following altercations with officers. Pepper spray was also used amid the chaos, although it was not clear who sprayed it.
They burned a cardboard effigy of Trump, and held signs that read "Vote Trump out."
After the Super Happy Fun America group left Copley Square to boos and heckling, many counterprotesters remained and took to the steps of Boston Public Library.
Holding Black Lives Matter signs, they chanted, "No good cops in a racist system" and "Whose streets? Our streets!"