Belgium Facing 'Tsunami' of Coronavirus Infections: Health Minister
October, 19, 2020 - 17:42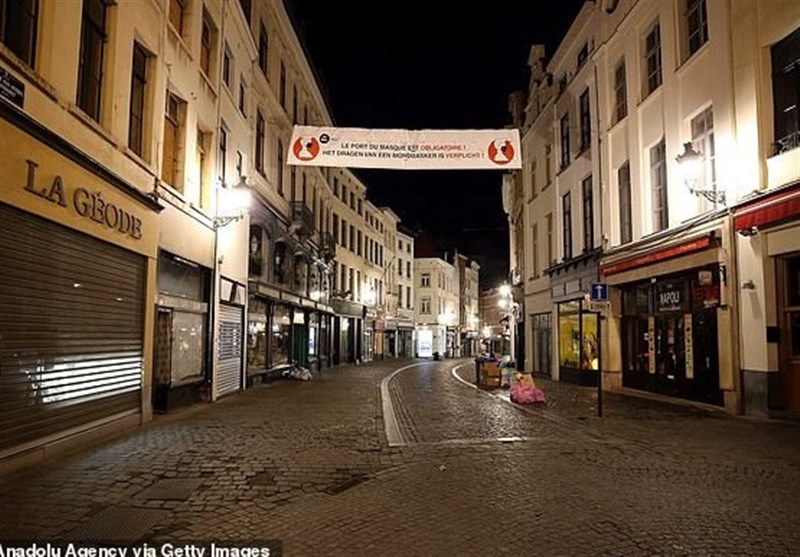 TEHRAN (Tasnim) – Belgium is facing a 'tsunami' of coronavirus infections, the country's health minister has warned as a night-time curfew took effect Monday.
Bars and restaurants have closed for a month and hospitals are having to delay surgeries to cope with the exponential growth of COVID-19, the Daily Mail reported
Belgium's infection rate is the second-worst in Europe after the Czech Republic and cases have doubled in a month to more than 222,000, in a country which already has more virus deaths than its far larger neighbor Germany.
'We are really very close to a tsunami,' Health Minister Frank Vandenbroucke told broadcaster RTL, adding that the situation in Brussels and the French-speaking region of Wallonio was 'the most dangerous in the whole of Europe'.
The warning came as Italy imposed new restrictions after the infection rate doubled in the space of a week, with nearly 60,000 new cases in seven days.
Russia also posted its biggest ever one-day jump with 15,982 new cases today while the Czech Republic is teetering on the brink of a second full lockdown.
Belgium's COVID-19 crisis center said today that average daily cases were up to 7,876, a rise of 79 per cent in the last week alone.
Delays in the publication of test results mean the true epidemiological situation could be even worse, said spokesman Yves Van Laethem.
As of Monday, 2,485 COVID-19 patients were hospitalized in Belgium, including 412 in intensive care. Authorities have warned that intensive care units will hit their capacity of 2,000 beds by mid-November if new cases continue to soar.
According to the European Centre for Disease Control, Belgium recorded more than 700 infections per 100,000 people over the last 14 days, the second-worst European record behind the Czech Republic, which had 828.
To fight the spread of the disease, Belgium's curfew will be enforced every night from midnight until 5am for at least a month.
Companies have been ordered to work from home wherever possible, while universities are imposing tighter controls in lecture halls.
Prime Minister Alexander De Croo said the situation in Belgium now is more serious than it was in March when the country implemented a national lockdown.
'We have three times as many people in intensive care in hospitals. So the situation in the hospitals is serious. It will continue to deteriorate,' De Croo told RTL.
A partial return to lockdown in Brussels failed to stem the dramatic new wave of coronavirus infections, leading to the new measures across Belgium.
Venues are allowed to offer take-away food, including the cafes and sandwich joints around the EU headquarters.
De Croo, who took office on October 1 after cobbling together a ruling coalition more than a year after elections, warned of an 'exponential' virus surge.
In a country of only 11.5 million, Belgium already has one of the highest per-capita rates of infection in the world.
'The situation is serious and much worse that it was on March 18 when we ordered almost complete confinement,' he said of the intensive care situation on Friday.
By Monday, Belgium had registered 222,253 coronavirus cases - a figure that has doubled in the past month, and 10,413 deaths.
Schools have reopened, but from Monday university campuses will be limited to a fifth of normal student numbers.
In the French-speaking part of the country, the All Saints' Day school holidays that start on October 31 have been prolonged so that they run into the November 11 holiday weekend.
The EU is debating whether to hold more summits and talks virtually, after two foreign ministers who met last week tested positive and several leaders abandoned a face-to-face summit to self-isolate.