Basij Bases in Iran Should Turn into Healthcare Centers: IRGC Chief
October, 30, 2020 - 18:14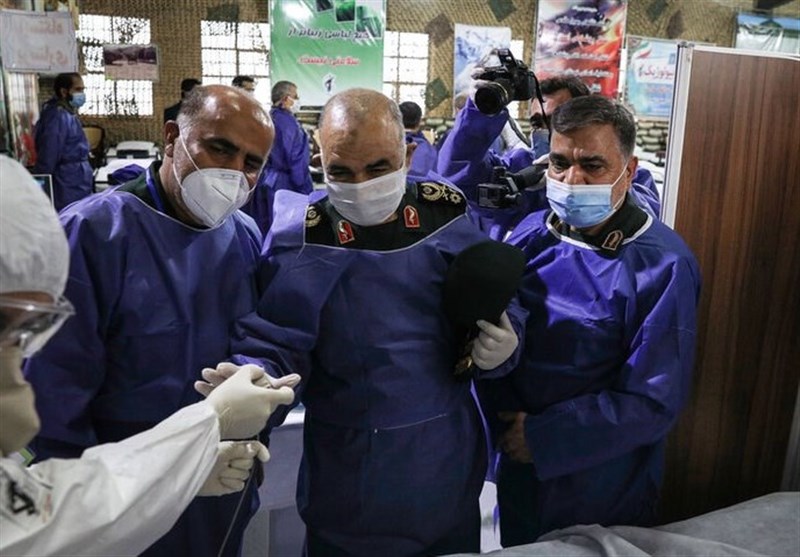 TEHRAN (Tasnim) – Commander of the Islamic Revolution Guards Corps Major General Hossein Salami ordered the Basij commanders across Iran to convert their bases into healthcare and rescue centers to help contain the coronavirus pandemic with early detection of infection.
In remarks at a videoconference with the IRGC's medical headquarters officials and provincial military commanders on Friday, Major General Salami said the IRGC is duty bound to fight against the coronavirus pandemic.
He also called on the commanders of Basij to convert the 54,000 bases across the country (known as the bases of resistance) into the bases of rescuers and guardians of health to play a serious role in the early detection of COVID-19 patients.
The commander then made a reference to scientifically-proven medical findings that early detection of coronavirus and keeping the positive cases in quarantine would cut off the chain of spread of the disease, saying, "We must try to separate the healthy people from the coronavirus positive cases as soon as possible."
He also ordered the IRGC provincial offices to distribute hygienic packages among the low-income households and promote the health protocols for tackling the coronavirus infection.
Earlier this month, the senior commander said the IRGC has provided all of its medical capacities to the Iranian health society to help in the fight against the coronavirus pandemic.
The Iranian Army, the IRGC and Basij have greatly contributed to the countrywide plans to help the medical staff and have expressed readiness to stand by the health society in protecting the lives of people.
In March, Ayatollah Khamenei assigned the Armed Forces to work on the necessary methods to prevent a further spread of coronavirus, in addition to the other activities such as treatment of patients and establishment of medical centers like field hospitals and convalescent homes.