DM: Iran Ready to Meet Iraq's Military Needs
November, 14, 2020 - 20:01
TEHRAN (Tasnim) - Defense Minister of Iran Brigadier General Amir Hatami expressed the country's readiness to strengthen Iraq's defense power and supply its demands for military equipment.
In a meeting with his Iraqi counterpart, held in Tehran on Saturday, Brigadier General Hatami said the Iranian Defense Ministry has developed great potential and infrastructures under the cruel foreign sanctions and is prepared to strengthen Iraq's defense power and meet the needs of Iraqi armed forces.
The Iranian minister also hailed the growing security in Iraq, saying Tehran continues to support the neighboring country's political processes, stability, security and territorial integrity.
Lauding the close cooperation between Iran and Iraq in ensuring regional security and in the fight against terrorism, Hatami said Iran is ready to participate in the reconstruction and development of Iraq, which he said is necessary for the establishment of stability and security.
He then warned that achieving stability and peace in the region would be impossible with the presence of extra-regional forces, adding, "The actions of big powers, above all the Great Satan, the US, revealed that they have hatched long-term plots for regional insecurity."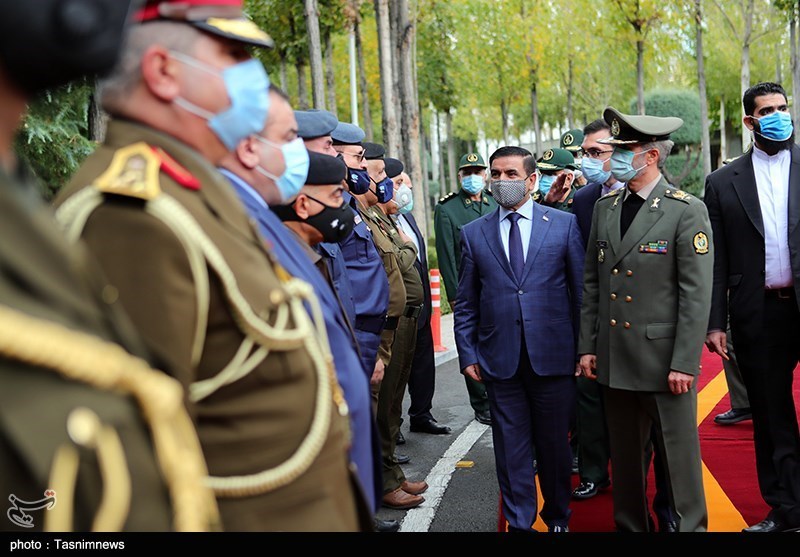 For his part, Defense Minister of Iraq Lt. General Juma Anad Saadoun said he has visited Iran to strengthen and enhance the bilateral relations and get acquainted with Iran's scientific and technological achievements and experiences in the defense industry.
The visiting Iraqi minister also expressed gratitude to Iran for providing his country with advisory and arms assistance in the battle against the ISIS terrorist group.
He finally stated that Iraq is willing to expand interaction with Iran in order to increase the capabilities of its armed forces with the purpose of eradicating the remaining terrorist groups.
Heading a high-ranking delegation of Iraqi military commander, Anad Saadoun has visited Iran at the formal invitation Brigadier General Hatami for negotiations on the promotion of military and defense cooperation between Tehran and Baghdad.
Back in May, Brigadier General Hatami underlined closer defense cooperation and strategic partnership with the new Iraqi government for regional security and stability.
In April 2019, Chief of Staff of the Iranian Armed Forces Major General Mohammad Hossein Baqeri said Tehran and Baghdad have agreed to launch air defense cooperation to combat possible threats to Iran's western border.