French Police Disperse Refugee Protesters Living in Migrant Camp (+Video)
November, 24, 2020 - 11:00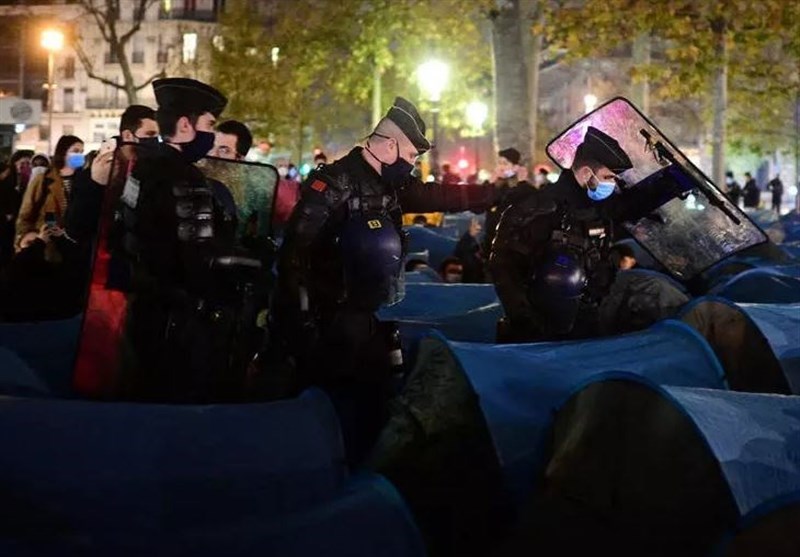 TEHRAN (Tasnim) – Police in Paris cleared out a temporary migrant camp set up in the middle of the French capital, clashing with pro-migrant protesters.
The demonstrators say the migrants set up the camp to demand accommodation.
French police cleared a makeshift migrant encampment in central Paris, which appeared after another was dismantled last week.
Rows of identical tents sprung up on the Place de la République in central Paris on Monday.
The camp was organized by Utopia56, a migrant advocacy group, who say that the 450 or so migrants in the encampment were left homeless when police cleared 2,000 migrants from a shanty town in the suburb of Saint-Denis last week.
Riot police soon arrived on the scene and started dismantling the pop-up camp.
The officers used tear gas to drive away the inhabitants and dismantle the camp in central Paris. Previously, volunteers had helped set up around 500 blue tents at the square on Monday, which were quickly filled by migrants.
The refugee organization Utopia 56 said the migrants had become homeless after a camp near the Stade de France stadium was cleared last week. "We are surrounded by police officers who are chasing away the migrants and dismantling the tents as usual without having a solution for where they should stay."
Police have cleared dozens of similar sites in recent years around Paris. Many migrants lack permanent or safe housing in France, even despite coronavirus fears and nationwide regulations implemented to curb the pandemic. Critics see the evictions as a symbolic political move that does little to address problems with migration policy.
Utopia56 has demanded that the French government provide "1,000 immediate accommodation places" for homeless migrants, and called on the state to set up a "permanent reception system" to house more entering the country.
The total number of illegal migrants living in Paris is unknown. A migrant rights group last year estimated that 2,000 were sleeping on the streets of the French capital, while a 2018 government report claimed that between 150,000 and 400,000 were living either homeless or in accommodation in the suburban region of Seine-Saint-Denis alone.