Yemenis Mark 1st Martyrdom Anniversary of Gen. Soleimani, Muhandis (+Video)
January, 03, 2021 - 14:03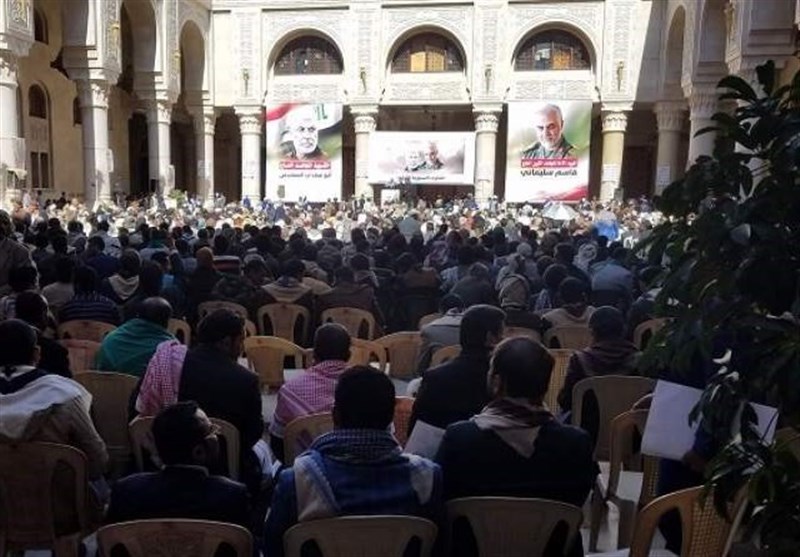 TEHRAN (Tasnim) – Yemenis held an event to mark the first anniversary of the martyrdom of Lieutenant General Qassem Soleimani and his companion Abu Mahdi Al-Muhandis.
In gratitude for their sacrifices in confronting America, Israel, and their tools in the region, Yemenis commemorated the first anniversary of the martyrdom of the Iranian and Iraqi commanders in the presence of the Iranian ambassador and representatives of the Islamic resistance movements.
The participants recalled the actions of Martyr Soleimani and how he terrified America and Israel, which thought, by assassinating him, to weaken the resistance forces, but contrary it lit a fire that would not be extinguished until the liberation of Jerusalem al-Quds and the demise of global arrogance.
The martyr Soleimani was an icon in the face of the Zionist entity and its projects. He played a great role in supporting the Palestinian resistance movements and stood by the Iraqi Popular Mobilization Forces in its battles with Daesh in Iraq.
Once again, Yemenis have taken a resolve to continue the legacy of General Qassem Soleimani in the face of years of aggression against the impoverished nation by Saudi Arabia and some its regional allies and their western backers.
The us assassinated General Soleimani, the commander of the quds force of the Islamic Revolution Guards Corps (IRGC), along with Abu Mahdi al-Muhandis, deputy head of Iraq's Popular Mobilization Units (PMU) or Hashd al-Shaabi, and their companions by targeting their vehicles outside Baghdad international airport on january 3.
The act of terror was carried out under the direction of us president Donald Trump, with the pentagon taking responsibility for the strike.