Finger of Blame for Attack on Iranian Freighter Pointed at Israel: Spokesman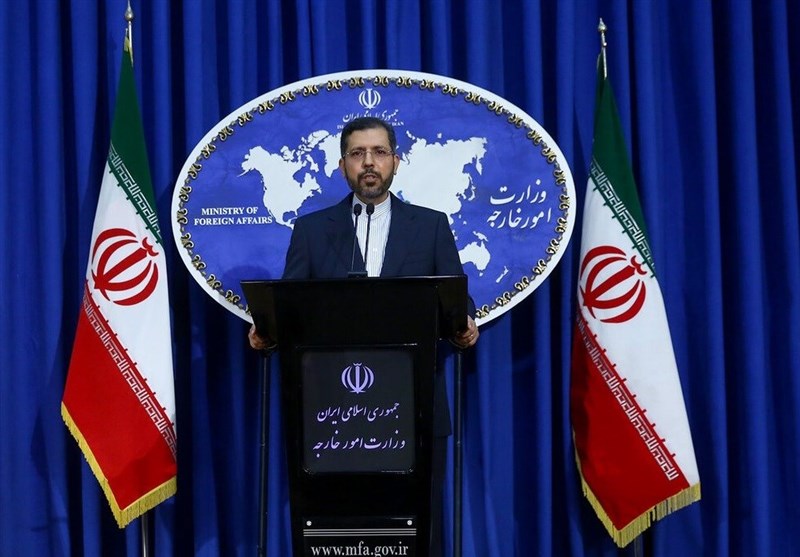 TEHRAN (Tasnim) – Evidence suggests that Israel may have been behind a recent attack on an Iranian container ship in the Mediterranean Sea, the spokesperson for the Foreign Ministry said, warning that Iran would consider resorting to "all options" to protect its interests.
Speaking at a weekly press conference on Monday, Saeed Khatibzadeh said the General Staff of the Iranian Armed Forces is competent to give a detailed opinion about the attack on Iran's 'Shahr-e Kord' container ship in the Mediterranean Sea, although the location of such an act of sabotage points the finger of blame at the Zionist regime.
"The (Israeli) regime's ferocious and aggressive nature also corroborates this," he said, adding that Israel has always sought to upset calm in the region.
"That regime (Israel) finds its survival in war, crisis and chaos. Iran would consider all options when it finds out who has been involved in this operation, and will resort to them to protect its legitimate rights," the spokesman said.
Iran does not hesitate to safeguard its national interests, nor does it compromise with anybody on this issue, Khatibzadeh emphasized.
"The Israeli officials are aware how Iran defends itself," he added.
Asked about a plan for a railroad corridor linking Israel, Saudi Arabia and the United Arab Emirates with the purpose of sidelining the Strait of Hormuz, the spokesman said, "The regime that has occupied al-Quds may be seeking to seize every opportunity, but that regime is at the lowest ebb of legitimacy."
Iran is monitoring the developments and will take effective measure if necessary, he concluded.
The Islamic Republic of Iran Shipping Line (IRIS) Group said an explosive object had hit the container ship as it was traveling to Europe in the high seas on March 10.
The vessel's hull has reportedly sustained slight damage, but the crew are unharmed.