Streets Set on Fire As Police Battle with May Day Protesters in Berlin, Paris (+Videos)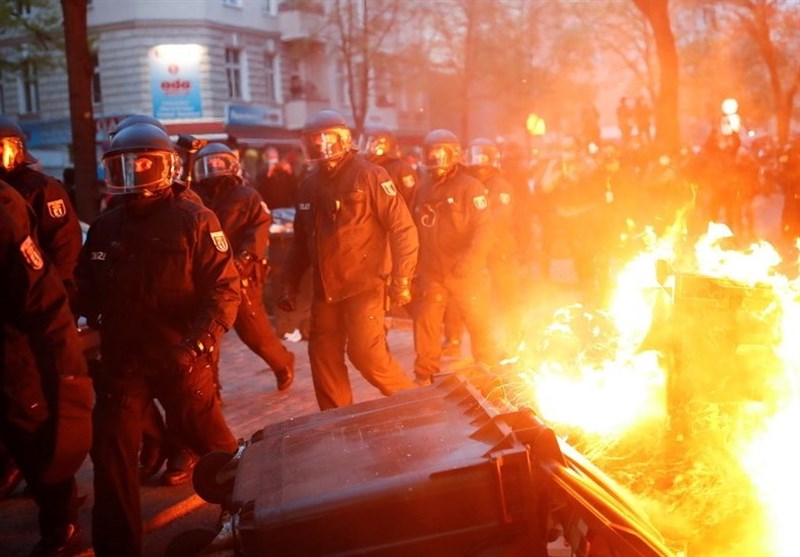 TEHRAN (Tasnim) – Thousands of protestors in the German and French capitals unleashed havoc on the streets of on Saturday by starting fires and smashing car windows and lobbing stones and fireworks at riot police.
May Day protesters took over the streets of multiple French cities, with the worst of the early clashes happening in the city of Lyon. By mid-afternoon, however, Paris was the epicenter of unrest, as 'black bloc' anarchists marching alongside the traditional trade unionists and workers' groups started smashing banks and shops in the capital.
Heavily armored riot police were nearby and responded with force. Video footage shows a squad of cops charging with shields raised to drive a crowd of vandals away from a bank.
Protesters were seen shooting fireworks at the police, and pelting officers with bottles and stones. The same officers who dispersed the crowd from in front of the bank were temporarily driven back, and another group of cops were seen huddled together under a barrage of projectiles.
Tear gas was used, but many rioters came wearing respirators and face masks. Protesters who came too close to police lines were treated to a hail of batons and pepper spray. Multiple videos show repeated and apparently indiscriminate police charges.
Police dispersed protesters from the Place de la Nation with water cannon. The powerful jets of water blew branches off trees and kept the crowd away from police lines.
With the demonstrations still ongoing, Interior Minister Gerald Darmanin announced that 34 people had been arrested in Paris by mid-afternoon.
Meanwhile in Berlin the international May Day drew participants of all stripes. Pro- and anti-vaxxers, trade unionists, anti-capitalist radicals, Palestinian activists and techno music fans all took to the streets in around 20 separate protests across the city. Notably absent were the extreme right, although small right-wing protests were held in other German cities.
A heavy contingent of police kept order throughout the day, periodically arresting protesters for violating face masking rules. By late afternoon, police said that 60 demonstrators were arrested at a protest against the virus restrictions in the Lichtenberg neighborhood.
As evening fell, the more radical protesters involved in the 'Revolutionary May 1st Protest' gathered in Neukolln for a fitting march along Karl Marx Strasse. Fires were lit and the atmosphere took on an angrier demeanor.
Bottles were reportedly thrown at police, and after remaining at a distance for some time, cops intervened to break up protests along the Sonnenallee. Video footage shows officers dragging protesters to the ground, as the sound of broken glass rings out.
As Berlin's 10pm curfew approached, police continued making arrests and attempting to disperse the crowds. Firefighters worked to extinguish the fires started by the leftists.
Cars were apparently targeted at random by vandals. As the protesters moved past, reporter Alexander Dinger noted that one family emerged from their house, saw their car smashed, and wondered "why?"
Demonstrators in several European countries marked May Day with protests, with intense clashes breaking out and a heavy police crackdown seen in Belgium .