Paul Pogba, Amad Diallo Show Support for Palestine at Old Trafford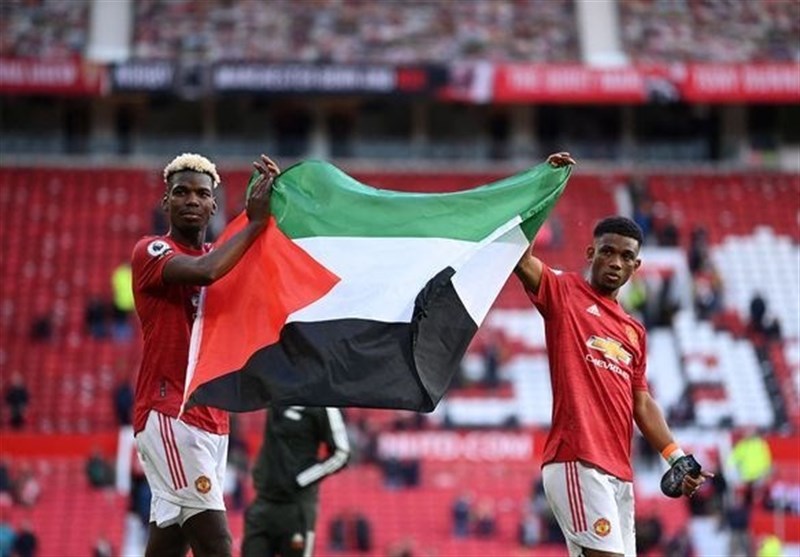 TEHRAN (Tasnim) – Soccer players Paul Pogba and Amad Diallo from the professional British club Manchester United showed their support for Palestinians amid the Israeli regime's relentless bombardment campaign against the besieged Gaza Strip.
Following their team's 1-1 draw against Fulham at Old Trafford on Tuesday, Manchester United midfielder Pogba collected and raised a Palestine flag and was joined by teammate Amad to express their support for the people living in the besieged coastal enclave.
The move was welcomed by Palestinians.
The Palestinian ambassador to the United Kingdom, Husam Zomlot, thanked the pair in a post published on his official Twitter page, expressing hope that one day the footballer could be invited to the liberated Palestinian capital Jerusalem al-Quds.
The gesture of support came just days after Leicester City stars Hamza Choudhury and Wesley Fofana held up the Palestinian flag as they celebrated their team's victory over Chelsea at London's Wembley Stadium in the UK's FA Cup final on Saturday.
Images of the moment were shared widely on social media, with many quick to praise the two players.
Zomlot welcomed the show of support and said it was "timely and appreciated."
"Carrying the Palestinian flag on the stage of one of football's most august cup competitions is a show of support that is reverberating all over Palestine," Zomlot said in a letter addressed to the pair, shared in a post on Twitter.
Moreover, Manchester City's Algerian winger Riyad Mahrez posted a picture of the Palestinian flag in a Twitter post on May 10, along with the hashtags "#Palestine" and "#SaveSheikhJarrah" – the neighborhood in Israeli occupied East Jerusalem al-Quds where dozens of Palestinian families are facing forcible expulsion from their homes.
Liverpool's Egyptian forward Mohamed Salah also tweeted on May 11 that he was calling on world leaders, including British Prime Minister Boris Johnson, to "do everything in their power to make sure the violence and killing of innocent people stops immediately."
His fellow Egyptian star, Mohamed Elneny, who plays for British football club Arsenal, also took to social media to express solidarity with Palestinians.
On May 10, Elneny tweeted pictures of al-Aqsa Mosque, the third holiest site in Islam, accompanied by the caption, "My heart and my soul and my support for you Palestine."
Israeli fighter jets continued to pummel the Gaza Strip on Wednesday, flattening residential buildings and killing several Palestinians, including a journalist.
Yousef Abu Hussein, a journalist for the Arabic-language radio station al-Aqsa Voice lost his life after an Israeli airstrike targeted his house this morning in Sheikh Radwan neighborhood.
The latest raids came as Palestinian resistance groups launched more rockets towards cities in southern Israel. There were no immediate reports of injuries.
At least 219 Palestinians, including 63 children and 36 women, have been killed in Gaza since the latest violence flared on May 10. About 1,530 Palestinians have been wounded as well, according to Gaza-based Ministry of Health.