Political Talks Sole Way to Settle Yemen Crisis: Zarif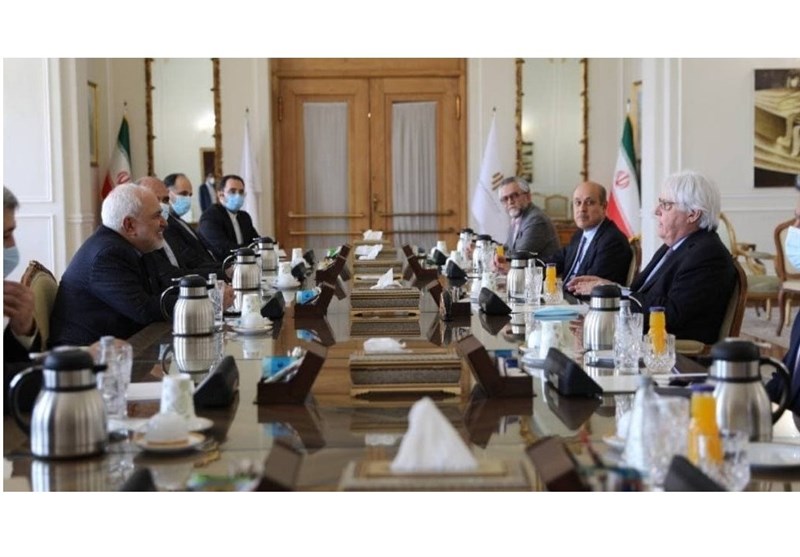 TEHRAN (Tasnim) – Iranian Foreign Minister Mohammad Javad Zarif reiterated that the crisis in Yemen has no military solution and must be resolved peacefully through political dialogue.
Zarif and the United Nations Special Envoy for Yemen, Martin Griffiths, met in Tehran on Tuesday for talks about various aspects of Yemen's crisis and efforts to ensure peace and stability in the Arab country.
The Iranian top diplomat underlined in the meeting that the Islamic Republic's principled policy rejects military ways as a solution to the crisis in Yemen, adding that the abhorrent situation that has disposed people of Yemen to a humanitarian catastrophe after six years of war should be resolved only through political dialogue and peaceful manners.
He also pointed to the developments that have erupted in Yemen after the outbreak of crisis, emphasizing the necessity for lifting the blockade on Yemeni people and facilitating the delivery of humanitarian aid to them.
For his part, Griffiths briefed the top Iranian diplomat on the results of his negotiations with various parties about the crisis in Yemen.
Since March 2015, Saudi Arabia and some of its Arab allies have been carrying out deadly airstrikes against the Houthi Ansarullah movement in an attempt to restore power to fugitive former president Abd Rabbuh Mansour Hadi, a close ally of Riyadh.
The war has killed tens of thousands of people, mostly civilians, and resulted in what the UN has described as the world's worst humanitarian crisis.
Some 3.3 million people have been displaced from their homes and 24 million, or more than 80 percent of the population, are in need of aid, according to the UN.