Trump Urged Military to 'Crack Skulls' of Civil Rights Protesters, Book Reveals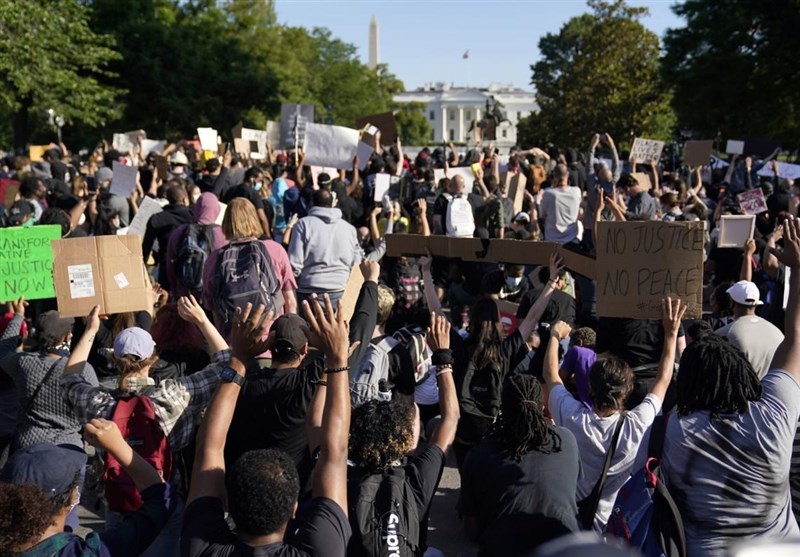 TEHRAN (Tasnim) – Former US president Donald Trump urged the military to ruthlessly deal with civil rights protests and "crack their skulls", a new book on 2020 US elections has revealed.
The top US general rejected then-president Trump's push for the military to 'crack skulls' at civil rights protests across the nation in 2020.
Joint Chiefs Chairman Mark Milley seemed to be at odds and - at times - the lone dissenting voice against the former president wanting to respond with force to protests over the murder of George Floyd, a Black man who died while in police custody in Minneapolis.
Passionate exchanges between Milley and Trump were included in Wall Street Journal reporter Michael Bender's new book 'Frankly, We Did Win This Election: The Inside Story of How Trump Lost' .
While watching protests unfold in places like Seattle and Portland, Trump highlighted cops' physical exchanges with protestors and told his administration that's what he wanted to see.
'That's how you're supposed to handle these people,' Trump told his top law enforcement and military officials, Bender wrote, according to CNN. 'Crack their skulls!'
Trump also told his team that he wanted the military to go in and 'beat the f--k out' of civil rights protestors, Bender wrote.
CNN reported other examples of Trump telling the military to shoot protestors. At one point, a Trump senior advisor Stephen Miller compared the protests to third-world countries, which angered Milley, Bender wrote.
Milley, who commanded troops in Iraq and Afghanistan, said, 'Shut the f--k up, Stephen,' CNN reported from one of the excerpts.
Bender's book showed Milley was concerned that Trump was going to invoke the Insurrection Act, which allows the president to deploy the military in cases of rebellion or terrorist attack.
Milley reportedly saw the protests and unrest as a political issue - not a military one - and was strongly against implementing the Insurrection Act.
CNN reported that Milley made a 'concerted effort' to stay in Washington as much as possible during Trump's final months in office.
The book also details how the US joint chiefs chairman, Gen. Mark Milley, and some other senior officials had to deal with Trump's increasingly volatile behavior during the final months of his presidency.
According to the author, Milley saw the unrest around Floyd's murder as a political problem, not a military one.
He told Trump there were more than enough reserves in the National Guard to support law enforcement in dealing with protests. Milley told him that invoking the Insurrection Act would shift responsibility for the protests from local authorities directly to the President, according to the excerpts.
The general also stressed the need for greater understanding of the driving forces behind the Jan. 6 attack on the Capitol by Trump's supporters, including white supremacists, who tried to stop Congress from certifying Biden's election win.
'I want to understand white rage, and I'm white and I want to understand it,' Milley said.
'What is it that caused thousands of people to assault this building and try to overturn the Constitution of the United States of America? What caused that? I want to find that out. I want to maintain an open mind here.'