Ayatollah Khamenei Lauds Epic Presence of Iranians in Elections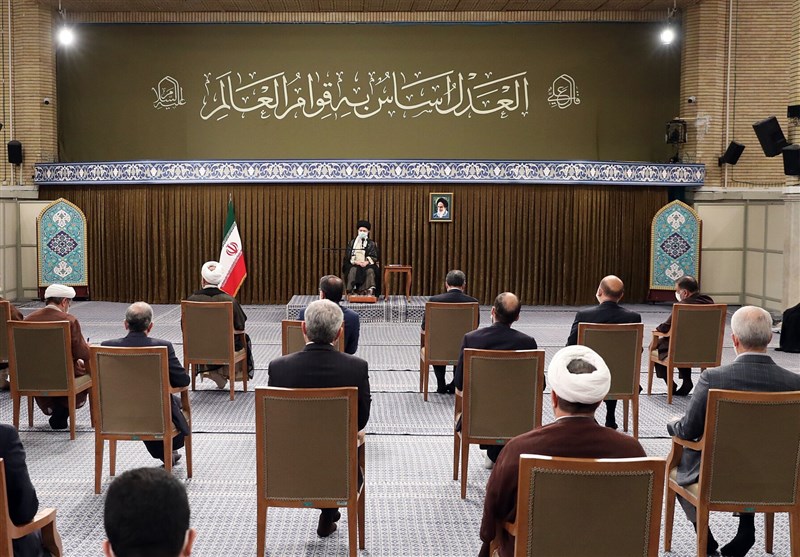 TEHRAN (Tasnim) – Leader of the Islamic Revolution Ayatollah Seyed Ali Khamenei highlighted the futility of hostile attempts to dissuade Iranians from taking part in the June 18 elections, saying the voting, which was truly an epic, made analysts realize what a major event has occurred.
Ayatollah Khamenei on Monday delivered a speech at a meeting with the head and members of the Iranian Judiciary on the anniversary of the 1981 assassinations of Ayatollah Beheshti, the former head of the Judiciary, and 72 of his companions by the Mujahedin Khalq Organization (MKO or MEK) terrorist group.
"MEK terrorists committed a horrendous crime on a day like this, by assassinating Martyr Beheshti and 72 others. They confessed to this murder themselves. But they walk free today in those same European countries that claim to advocate human rights, including France," the Leader said.
"The French government and some (other) Western governments support the MEK terrorists and give them an official place to talk, even in their national parliaments, yet they claim to advocate human rights. Some of the Western governments' brazenness is truly appalling and strange," Ayatollah Khamenei added, according to Khamenei.ir.
On the June 18 elections in Iran, the Leader said, "Iran's elections in 2021 were truly an epic created by the Iranian people. Where in the world is it common to see hundreds and even thousands of enemies' media outlets and foreign propaganda machines working to create a boycott of a country's elections and to dissuade people from voting?"
"​The people of Iran struck a heavy blow to those trying to create a boycott of the elections," Ayatollah Khamenei said, adding, "The enemies hoped the turnout would be about 20 percent. Considering the pandemic, which is said to have decreased the turnout by 10 percent, the actual turnout was about 60 percent, which is a good turnout."
"​That Iran's top officials met with the President-elect and the defeated candidates congratulated the winner was a very good occurrence that took place in our country. Compare this with the US election fiasco!" the Leader further stated.