Raeisi Urges Finalization of Iran-Russia Comprehensive Cooperation Deal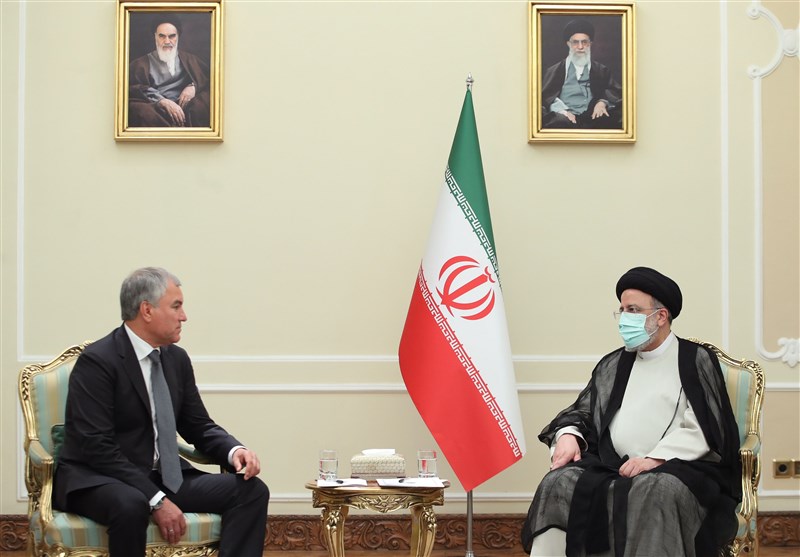 TEHRAN (Tasnim) – Iranian President Ebrahim Raeisi highlighted the significant role of mutual cooperation with Russia in countering unilateralism, hoping that the two states would conclude a comprehensive cooperation agreement soon.
Cooperation between Iran and Russia could be an influential and preventive factor in the face of unilateralism, President Ebrahim Raeisi said in a meeting with Chairman of Russia's State Duma Vyacheslav Volodin, held in Tehran on Thursday.
He also expressed hope that Tehran and Moscow would finalize the comprehensive cooperation agreement in order to maximize their interaction.
"Tehran-Moscow relations must enter a new era and substantial steps must be taken for their development in all fields," Raeisi added.
There are no limits to the promotion of relations between Iran and Russia, he stated, noting that Tehran is resolved to press on with the 'resistance economy' policies in order to strengthen perseverance in dealing with the economic shocks caused by the cruel American and European sanctions.
Volodin, for his part, voiced the Russian Duma's readiness to play a role in the enhancement of ties with Iran, saying he will convey the proposal on the finalization of the comprehensive cooperation deal to Russian President Vladimir Putin.
He added that the foreign sanctions have been imposed with the purpose of weakening Russia and Iran, stressing that Moscow and Tehran will stay together to step up interaction and overcome the obstacles.