Collapse of Israel Imminent: IRGC Commander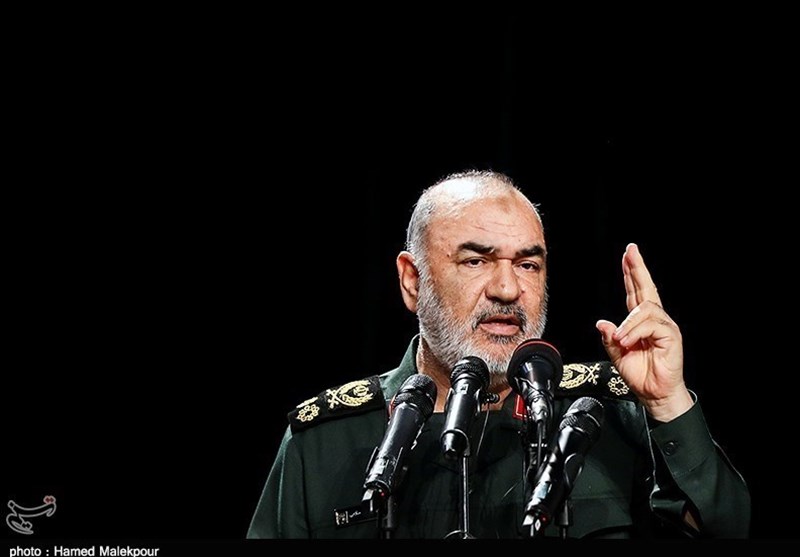 TEHRAN (Tasnim) – Dissolution of the Zionist regime in not a wish anymore, but a reality that will come true in the near future, Commander of the Islamic Revolution Guards Corps Major General Hossein Salami said.
The IRGC commander held separate meetings with Secretary-General of the Palestinian Islamic Jihad Movement Ziad al-Nakhala and Chief of the Political Bureau of Islamic Resistance Movement Hamas Ismail Haniyeh in Tehran on Monday.
Praising the Palestinian resistance's victory against the Israeli regime in the recent 12-day war, the general said he is delighted to meet the Palestinian leaders who have visited Tehran following a "major, extraordinary and wonderful triumph" against the Zionist enemy.
"Considering the undeniable realities on the ground, we are confident that the decline and collapse of the Zionist regime is beyond a wish and is a reality that could happen in the near future," Major General Salami said.
The only thing that can leash the unruly Zionists is force, he stressed, adding that plans to strengthen Palestine is a strategy that must never stop.
The course of events across the occupied territories reveal that the stories invented by the Zionists, the hegemons and the arrogant media about invincibility of the Zionist regime has been shattered, he noted, adding that the Operation al-Quds Sword dispelled the myth that others are unable to show reaction to Israel or the Islamic and Arab countries have no option but to live in peace and coexistence with the occupiers.
The recent battle proved that Palestine has become strong and the termination of the fake Zionist regime is definite, Salami stated.
The Israeli regime launched a brutal bombing campaign against the besieged Gaza Strip on May 10, following Palestinian retaliation against violent raids on worshipers at al-Aqsa Mosque and the regime's plans to force a number of Palestinian families out of their homes at the Sheikh Jarrah neighborhood of East Jerusalem (al-Quds).
According to Gaza's Health Ministry, 260 Palestinians were killed in the Israeli offensive, including 66 children and 40 women. At least 1,948 others were also wounded.
In response, Palestinian resistance movements, chief among them Hamas, launched Operation al-Quds Sword and fired more than 4,000 rockets and missiles into the occupied territories, killing 12 Israelis.
Apparently caught off guard by the unprecedented barrage of rockets from Gaza, Israel announced a unilateral ceasefire on May 21, which Palestinian resistance movements accepted with Egyptian mediation.