Iran's Navy Chief Vows Action against Regional Insecurity
September, 02, 2021 - 08:27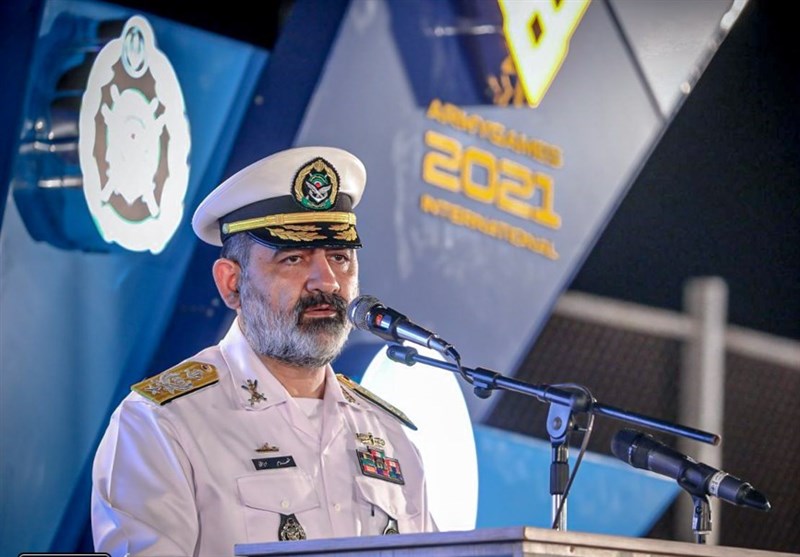 TEHRAN (Tasnim) – The new commander of the Iranian Navy reaffirmed the Islamic Republic's commitment to countering hostile actions that are aimed at upsetting security across the region.
Speaking to reporters at the conclusion of the 6th edition of diving competitions of the International Army Games 2021, held in Iran's southern port of Konarak, Iranian Navy Rear Admiral Shahram Irani highlighted the country's push for peace and friendship with other nations.
"Rest assured that we will never allow other countries to intend to upset security and calm in the region in a belligerent format," the commander stated.
Highlighting Iran's activities to protect the maritime security as a sovereign state, the Navy chief said collaborations among the armed forces of countries, such as the military competitions in Iran, send a message that free nations will vigorously fight off and humiliate the enemies.
In an address to the 7th meeting of the Indian Ocean Naval Symposium (IONS), held on Reunion Island in June, the former commander of the Iranian Navy unveiled plans for the inauguration of a center in the country's southeastern port city of Chabahar for international cooperation on maritime security.
Iran is a permanent member of IONS and has held its 3-year presidency since 2018.
The IONS is a voluntary initiative that seeks to increase maritime cooperation among navies of the littoral states of the Indian Ocean Region by providing an open and inclusive forum for discussion of regionally relevant maritime issues.