Iran Urges UK to Build Trust
September, 14, 2021 - 10:07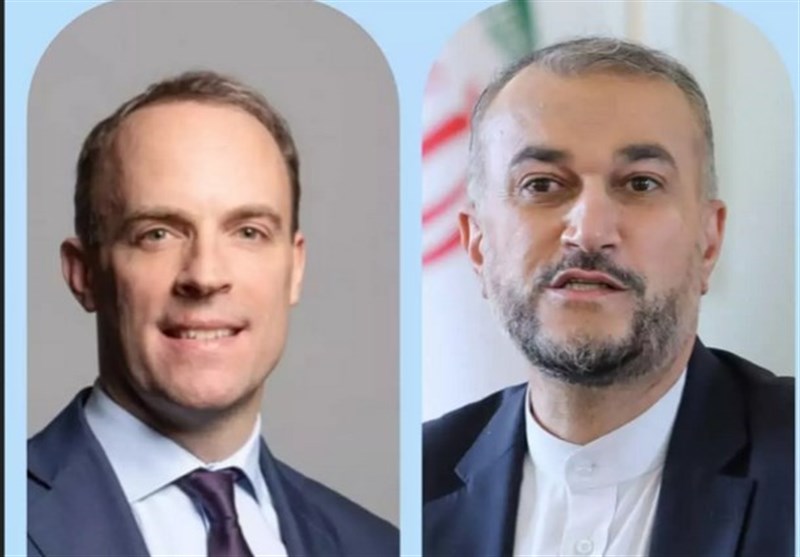 TEHRAN (Tasnim) – Foreign Minister of Iran Hossein Amirabdollahian stressed the need for the UK to take trust-building steps and constructive measures to address a series of problems in the bilateral ties.
In a telephone conversation with British Foreign Secretary Dominic Raab in a Monday, Amirabdollahian stressed the importance of taking confidence-building steps by the UK government in order to resolve some outstanding problems in mutual relations, saying Tehran will welcome London's "constructive and practical" measures in this regard.
He also reiterated that Iran welcomes any negotiations that would meet the interests and secure the rights of the Iranian people.
"The 13th (Iranian) administration, at the beginning of its work, is engaged in internal consultations about how to continue the Vienna talks (on the revival of the 2015 nuclear deal), but it welcomes negotiations that produce tangible results and meet the rights and interests of the (Iranian) people," he noted.
The foreign minister said Iran also expects all illegal sanctions that have been imposed on the country by the US and other Western states to be removed.
Amirabdollahian then criticized the wrong policies adopted by the US and some Western countries on Afghanistan, saying that establishment of security and stability in the war-ravaged country depends on the formation of an inclusive government with the participation of all ethnic groups, promotion of dialogue, avoidance of violence, and adoption of practical ways to fight terrorism.
The top diplomat also expressed Iran's readiness to facilitate the dispatch of humanitarian aids to Afghanistan.
For his part, the British foreign secretary expressed hope that Tehran and London would expand relations and interactions in various fields based on mutual understanding under the new Iranian government that took office last month.
Raab also reiterated his country's commitment to repay its debt to Iran, Press TV reported.
Britain owes as much as £400m to Iran arising from the non-delivery of 1,500 Chieftain Tanks and 250 other armored vehicles ordered by the then Shah of Iran before his overthrow in 1979.