Balkans, Croatia Highly Significant in Iran's Foreign Policy: FM
September, 22, 2021 - 13:49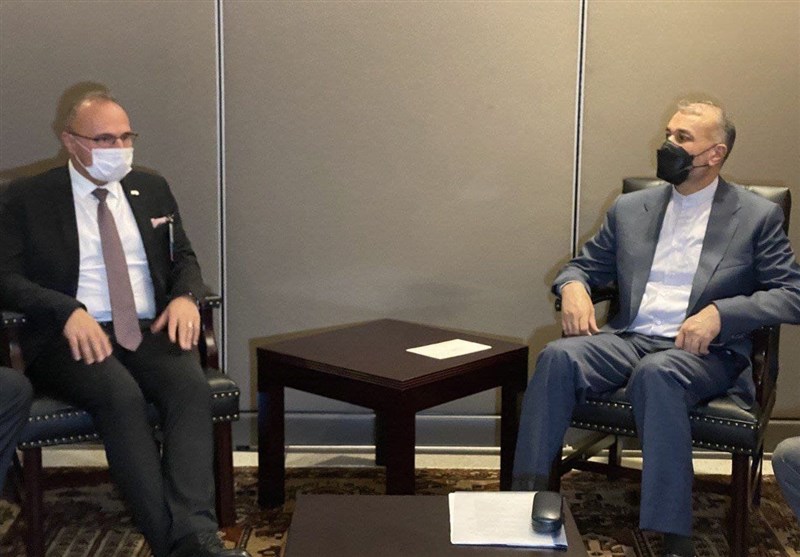 TEHRAN (Tasnim) – The Balkans, especially Croatia, have a very important place in Iran's foreign policy agenda, Iranian Foreign Minister Hossein Amirabdollahian said, expressing Tehran's preparedness to revive the Joint Economic Commission with Zagreb after 16 years.
In a meeting on the sidelines of the 76th session of the UN General Assembly in New York, Amirabdollahian and his Croatian counterpart Gordan Grlic-Radman held talks about a range of issues on Tuesday.
Referring to the potential for bilateral cooperation, the two sides stressed the need to activate cooperation mechanisms, such as the Joint Economic Commission.
In addition to the bilateral issues, the two senior diplomats discussed topics such as the crisis in Afghanistan, refugees, and the Joint Comprehensive Plan of Action.
The Iranian foreign minister highlighted the importance of the Balkans, especially Croatia, in the foreign policy of the new Iranian administration, stating that the two countries have great potential for developing cooperation in the political and cultural spheres.
He further added that two agreements are on the agenda of the Iranian Parliament in the field of customs cooperation and encouragement of mutual investment, and that with the final approval of these agreements, new opportunities will be created for cooperation.
Amirabdollahian also referred to the fact that the two countries have not held a meeting of the Joint Economic Commission for 16 years, stating that Iran is ready to revive the commission in Tehran as soon as possible.
For his part, the Croatian foreign minister highlighted the importance of relations with Iran, saying his country seeks to strengthen relations with the Islamic Republic.
Referring to the negotiations between Iran and the P4+1 on the revival of the JCPOA, Grlic-Radman said that part of the benefits of the nuclear agreement will help improve Iran's economy.
He also noted that the recent visit of the director general of the International Atomic Energy Agency to Tehran and the technical agreement between the two sides was an important step, adding that the goal of the JCPOA is clear and there is no better alternative to it.
The Croatian foreign minister further referred to the sanctions as an obstacle in the way of development of relations, saying that the two countries' capacities in the economic field are high, but the sanctions have damaged the trade relations between the two countries.
He also stressed the importance of Iran's role in contributing to peace and stability in Afghanistan, saying Tehran's efforts are important, especially in addressing the issue of Afghan refugees.
Also in the meeting, the Iranian foreign minister expounded on Tehran's measures to help improve the situation in Afghanistan, including by hosting refugees, providing humanitarian aids, and helping to evacuate the citizens of other countries, including Croatians, from Afghanistan.