Petrol Station Queues Continue As UK Faces Fuel Shortage (+Video)
September, 25, 2021 - 15:41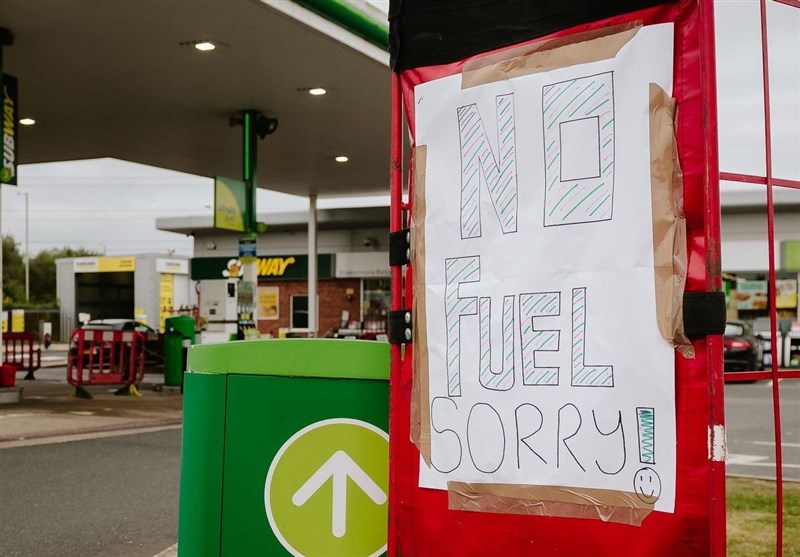 TEHRAN (Tasnim) – Long queues of motorists waiting to fill up their tanks are continuing for a second day - as the government is expected to clear the way for a visa change allowing thousands of foreign lorry drivers to work in the UK.
The temporary measures would be aimed at HGV truckers from abroad plugging the gaps that have been blamed for causing the queues at petrol pumps and shortages in some food items.
Number 10 has insisted any move would be "very strictly time-limited" and Sky News reported Boris Johnson has allowed ministers to relax immigration rules that could allow up to 5,000 foreign lorry drivers to work in the UK.
A Downing Street spokesperson said the country had "ample fuel stocks...and there are no shortages".
Long lines of cars at petrol stations started forming on Friday and continued for a second day, as concerns over supplies spread.
Ministers met yesterday for urgent talks on how to address what has been estimated as a shortage of more than 100,000 drivers.
Sky News' deputy political editor Sam Coates reported that the UK prime minister has cleared the way for the visa change in the hope that it could prevent a crisis.
The details are expected to be revealed on Sunday in a bid to overshadow the start of Labour's party conference.
Retailers have warned the government has just 10 days to save Christmas from "significant disruption" due to the shortage.
The British Retail Consortium said disruption to festive preparations will be "inevitable" if progress is not made.
Hoyer, one of the UK's largest fuel logistics companies, revealed it was "struggling to meet deliveries".
It cannot find enough tanker drivers to make fuel deliveries and was said to be typically 20 short of the 400 to 450 a day needed.
Hanna Hofer, BP's head of UK retail, told a government meeting last week the situation was "bad, very bad".
The company said up to 100 of its forecourts were short of at least one grade of fuel. It has started rationing petrol deliveries.
Several have been forced to close entirely due to problems with supplies.
Petrol stations on motorways and major roads are being prioritised for fuel deliveries.
BP will "very soon" stop supplying several stations with petrol for 36 hours each week.