Iran Military Drills Serve Regional Stability, Spokesman Says after Azeri Leader's Criticism
September, 28, 2021 - 16:38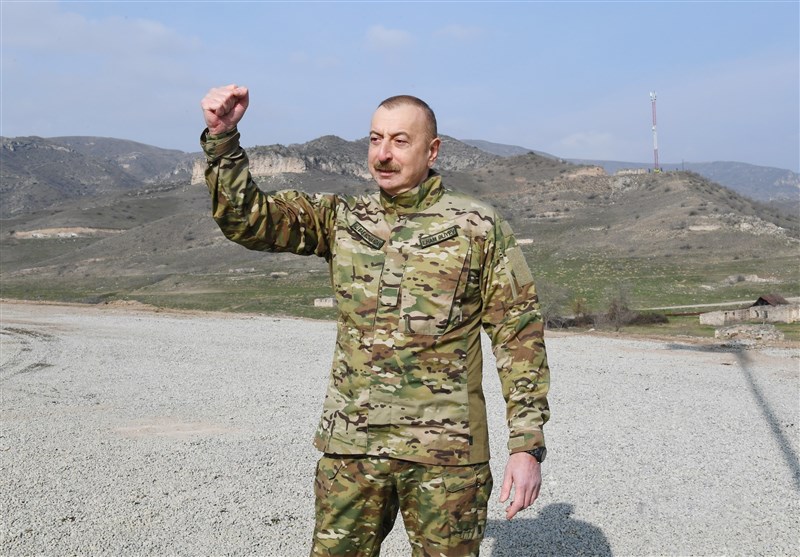 TEHRAN (Tasnim) – The spokesman for the Iranian Foreign Ministry allayed the Azeri president's concerns that Iran has staged a military drill near the common border, describing such exercises as an issue relating to Iran's sovereignty and saying they serve the entire region's calm and stability.
Asked by reporters about the recent comments from President of the Republic of Azerbaijan Ilham Aliyev about Iran, Saeed Khatibzadeh said on Tuesday that it was surprising that the Azeri leader has made remarks in such a way while the two neighbors enjoy "good and respectful" relations and the interaction between Tehran and Baku is in the routine course at the highest level.
His comments came after Aliyev said he was "very surprised" by Iran's decision to hold military drills close to the common border.
In an interview with Turkey's Anadolu Agency, published on Monday, the Azeri president said, "Why now and why near our borders?"
Aliyev said Iran had not held military drills near the border since Azerbaijan became independent from the former Soviet Union almost 30 years ago.
In response, Khatibzadeh said the decision to hold a war game in Iran's northwestern border areas is an issue relating to the country's sovereignty, noting that the drills are held for the sake of calm and stability of the whole region.
"Of course, it is obvious that the Islamic Republic of Iran would not tolerate even the theatrical presence of the Zionist regime near its borders, and will take whatever action necessary for (protecting) its national security in that regard," the spokesman added.
He noted that the foreign ministers of Iran and the Republic of Azerbaijan have held "serious and precise consultations" about various issues on the sidelines of the UN General Assembly in New York and agreed that the bilateral talks will continue within a proper framework.
"The Islamic Republic of Iran has always expressed its opposition to any occupation of territories and has stressed the necessity of respecting the territorial integrity of countries and internationally recognized boundaries," Khatibzadeh stated.
He added that all neighbors of Iran are expected to observe the principles of good neighborliness.
In recent weeks, the Azeri police and customs officials have begun imposing a "road tax" on Iranian trucks shipping fuel and other goods to neighboring Armenia, causing a strained atmosphere in the relations between Tehran and Baku.
Aliyev has claimed that Iran had ignored Azerbaijan's calls for many years to stop transporting goods to Nagorno-Karabakh, an ethnic Armenian enclave that's internationally recognized as Azerbaijani territory. He said no Iranian truck has entered Nagorno-Karabakh since Azerbaijan started imposing the tax.