Iran Drawing Conclusion on Resumption of JCPOA Talks: FM
October, 12, 2021 - 14:58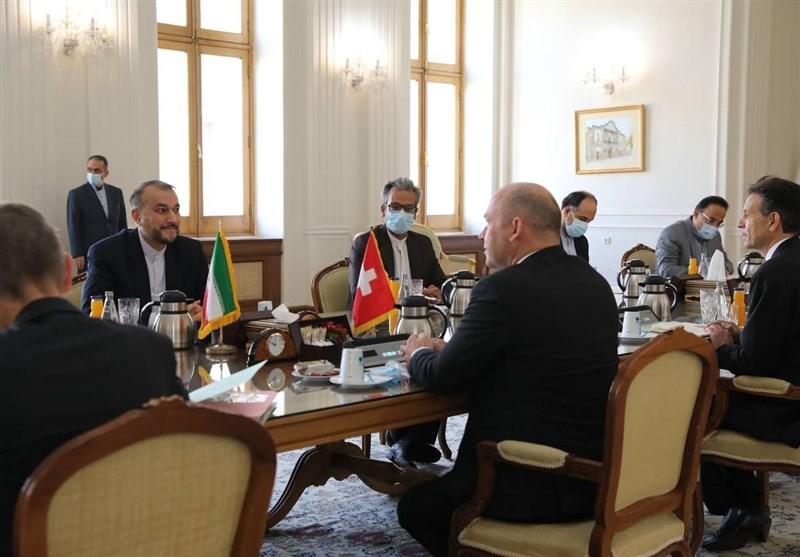 TEHRAN (Tasnim) – The Iranian administration is reaching a conclusion on the resumption of the Vienna talks for the revival of the 2015 nuclear deal, Foreign Minister Hossein Amirabdollahian said.
In a meeting with President of the National Council of Switzerland Andreas Aebi, held in Tehran on Tuesday, Amirabdollahian said the Iranian administration is going to finalize decisions on the resumption of the Vienna talks about the Joint Comprehensive Plan of Action in the near future.
In the next round of the nuclear talks, Iran's actions will be proportional to the deeds and measures of the other parties, he explained.
Elsewhere, the top diplomat hailed the amicable relations between Iran and Switzerland, highlighted the significance of parliaments in enhancing cooperation, and expounded on the new Iranian administration's policy of balanced relations with the foreign countries.
Amirabdollahian also called for closer cooperation between the two countries' small and medium-sized enterprises, stressing the need to hold a new meeting of Cooperation Joint Commission.
On the crisis in Afghanistan, the Iranian foreign minister reiterated the need for the formation of an inclusive government, saying that meeting challenges associated with the refugees, drug trafficking and terrorism requires collective international efforts.
For his part, the Swiss lawmaker praised Iran as a country with pivotal role in the region, hailed the constructive meetings he has held with the Iranian parliamentary officials in Tehran, and called for plans to strengthen Switzerland's role as the representative of interests of a number of countries in Iran.
Aebi also lauded Iran for hosting millions of Afghan refugees in the past decades.
He further expressed Switzerland's willingness to play a role in bringing the views of the negotiating parties closer together in the course of the JCPOA talks.
Elsewhere in the meeting, the two officials talked about the recent negotiations between Iran and Saudi Arabia and the latest developments in Yemen.