Iran's President Urges Religious Scholars to Push for Muslim Unity
October, 19, 2021 - 14:06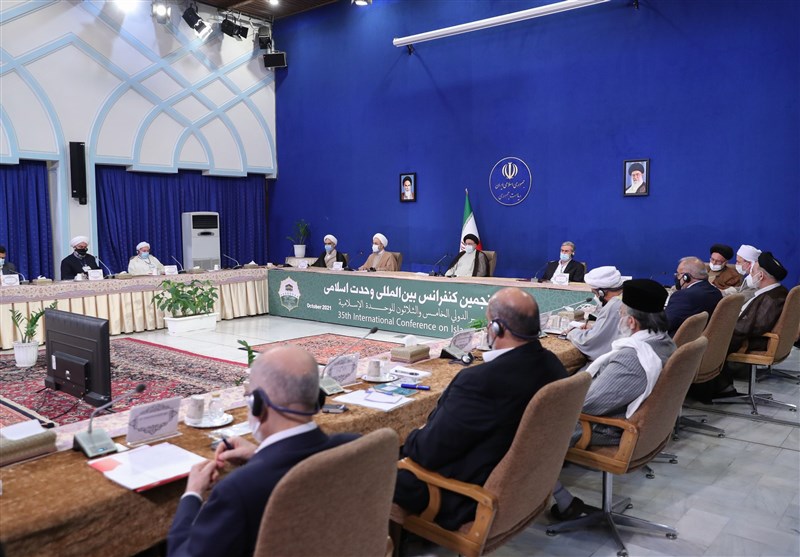 TEHRAN (Tasnim) – President of Iran Ebrahim Raisi described unity within the Muslim community as a strategic concept in the Islamic world, calling on religious scholars to put efforts into unifying the followers of Islam.
In an address to the opening of the 35th International Conference on Islamic Unity, held in Tehran on Tuesday, Raisi appreciated the efforts and measures taken to achieve Islamic unity and rapprochement among religions.
The president also pointed to the emphasis that the late founder of the Islamic Republic Imam Khomeini and Leader of the Islamic Revolution Ayatollah Seyed Ali Khamenei have placed on the unity of the Islamic community, describing it as a strategic move in the Islamic world.
"Efforts for the unity of the Islamic community must be pursued seriously and resolutely by religious scholars," he added.
"The Islamic Awakening, which was formed thanks to the efforts and the blood of martyrs, should not turn cold and we should all work to maintain and strengthen it," he said, according to the Iranian government's official website.
"Today, we are witnessing divisions and conspiracies of the enemies of Islam in all countries around the region, including Iraq, Syria, Afghanistan, Lebanon and Yemen, and we must all try to protect the Islamic community from these conspiracies," Raisi stated.
Stressing that the only goal of the Islamic community should be freedom from the domineering system, Raisi said that the "system of domination seeks to prevent the Islamic community from being formed and having dynamism.
"Today we are witnessing conspiracies in Lebanon and Afghanistan, and yesterday we were witnessing conspiracies in Iraq and Syria, and Islamic scholars must monitor the deviations and warn in time so that the Islamic community will be safe from these deviations and conspiracies," he added.
"We seek to establish stability in Islamic countries and the enemy seeks to create division and instability. And we believe that in the Islamic world, anyone who knowingly or unknowingly, willingly or unwillingly, utters a word, statement or action in the direction of breaking this unity, has moved in the direction of the enemy's strategy," the Iranian president concluded.