Iran, Tajikistan Agree to Broaden Political, Economic Ties
October, 27, 2021 - 10:32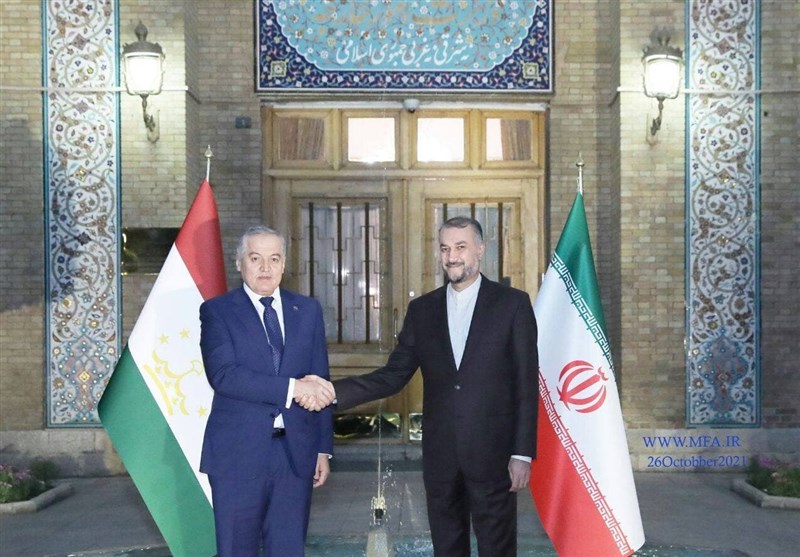 TEHRAN (Tasnim) – The foreign ministers of Iran and Tajikistan weighed plans at a meeting in Tehran to enhance the political, economic and cultural relations between the two Persian-speaking countries and promote cooperation within the framework of international organizations.
Iranian Foreign Minister Hossein Amirabdollahian and his Tajik counterpart Sirojiddin Muhriddin held a meeting in Tehran on Tuesday ahead of a ministerial meeting of the neighbors of Afghanistan.
The two senior diplomats discussed the latest developments in the relations between Iran and Tajikistan, especially in the fields of economy, political relations and cultural cooperation.
Amirabdollahian thanked Tajikistan for hosting the Shanghai Cooperation Organization (SCO) summit with the presence of a high-ranking delegation of Iran chaired by President Ebrahim Raisi, and the important agreements reached between the two presidents.
The Iranian foreign minister also expounded on the administration's approach towards relations with the neighboring countries, called it one of the most important foreign relations priorities of Iran, and described the deep cultural and linguistic commonalities with Tajikistan as an important capacity for bilateral cooperation.
He said the capacity of cooperation between the two countries in the fields of technical-engineering services, tourism, industries, mining and agriculture is at a significant level, which the two countries can benefit from especially in the form of cooperation in the SCO, the foreign ministry's website reported.
The top Iranian diplomat also referred to the meeting of the foreign ministers of Afghanistan's neighbors in Tehran, emphasizing Iran's view on the formation of an inclusive government with the participation of all ethnic groups in Afghanistan.
He expressed hope that this meeting can take effective steps so that the will of the people of Afghanistan will be realized, and contribute to the stability, peace and development of that country.
For his part, Muhriddin stressed the need to implement the agreements reached between the two presidents in Tajikistan, saying the volume of trade between the two countries is not commensurate with their existing capacities.
He also said the two countries have close views on the fight against terrorism, extremism and separatism, and underscored the necessity of cooperation in bilateral and multilateral fields, especially within the framework of the SCO and the Economic Cooperation Organization.
Muhriddin also expounded on his country's views on Afghanistan issues.