Iran, Azerbaijan Prepared to Finalize Joint Projects
December, 23, 2021 - 09:33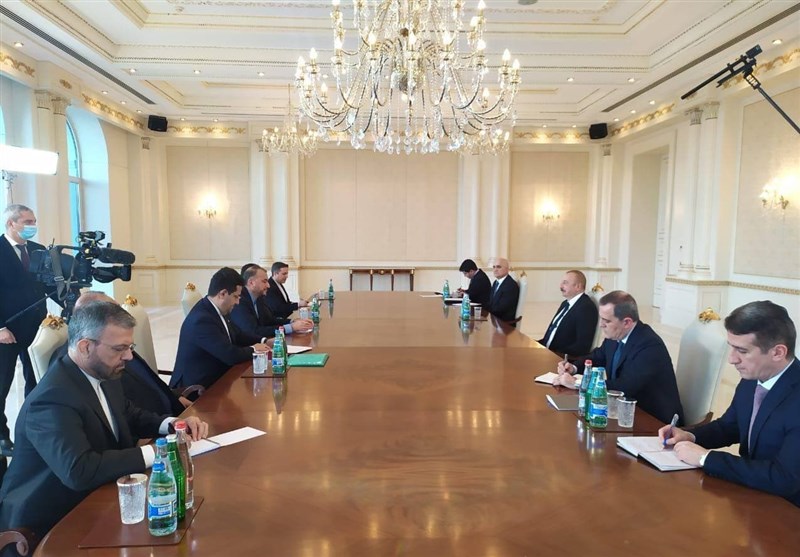 TEHRAN (Tasnim) – The foreign minister of Iran and the president of the Republic of Azerbaijan discussed plans to finalize joint projects and strike new agreements between the two neighbors.
In a meeting in Baku on Wednesday, Iranian Foreign Minister Hossein Amirabdollahian and Azeri President Ilham Aliyev discussed ways to expand ties between the two Muslim neighbors.
Highlighting the determination of the high-ranking officials of the two countries to develop ties, Amirabdollahian said a new chapter has opened in the Iran-Azerbaijan relations which will have positive results for both countries.
The Iranian foreign minister said, "We are ready to finalize all previous projects and lay the groundwork for new agreements between the two nations."
Amirabdollahian also referred to Iran's presence in the 3+3 format, describing such cooperation as beneficial to the region's peace and stability, the Iranian Foreign Ministry's website reported.
He further underlined that the extra-regional forces have no right to intervene in the affairs of the region and that regional countries can resolve the problems by themselves.
For his part, Aliyev underscored the significance of relations between the two neighbors, saying, "We are willing to expand these relations in all political, economic and cultural areas".
He also noted that the important joint projects must be finalized.
The Azeri leader stressed that regional issues must be resolved by the regional countries alone.
Baku is opposed to interference of foreign countries in the region and believes that regional connections are useful for all countries, he stated.
The Azeri president also referred to a recent meeting with his Iranian counterpart Ebrahim Raisi in Ashgabat on the sidelines of the ECO summit, describing it as fruitful.