Iran, EU, E3 Coordinate Plans in Vienna
January, 10, 2022 - 09:49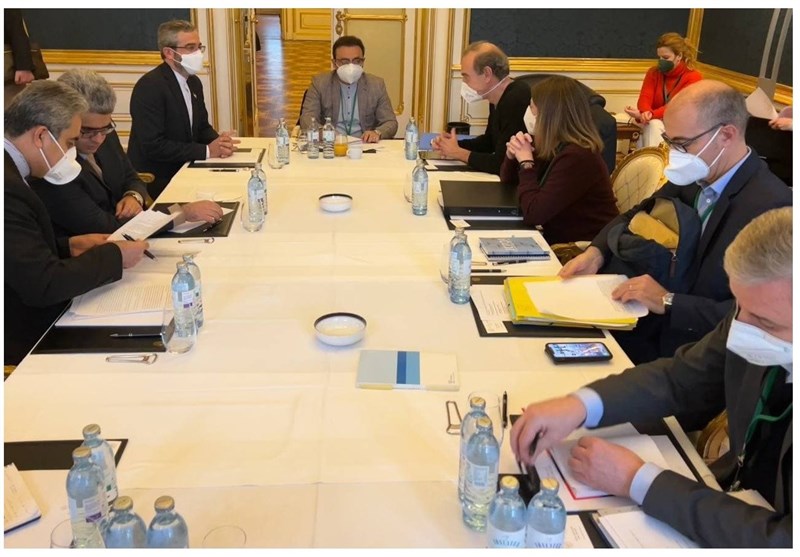 TEHRAN (Tasnim) – Ranking diplomats from Iran, the European Union and the European troika held meetings in Vienna on Sunday to weigh plans for the revival of the 2015 nuclear deal and the removal of sanctions against Tehran.
As diplomatic efforts continue in the Austrian capital to secure the removal of all US sanctions on Tehran, chief negotiators from Iran and the three European signatories (E3) to the 2015 nuclear deal and the senior EU representative met in Vienna on Sunday.
Iran and the P4+1 group of countries – Britain, France, Germany, Russia and China – resumed talks in Vienna on January 3 after the parties took a three-day break for the New Year. The US is not allowed to directly attend the talks due to its pullout in 2018 from the landmark deal with Iran.
The eighth round of the Vienna talks began on December 27 with a focus on the removal of all sanctions that the United States imposed on Iran following its unilateral withdrawal from the Joint Comprehensive Plan of Action (JCPOA) three years after its conclusion.
On Sunday, Iran's lead negotiator to the Vienna talks Ali Baqeri and Enrique Mora, the European Union's deputy foreign policy chief and head of the JCPOA Joint Commission, as well as representatives of the E3 held a meeting.
The bilateral and multilateral expert-level talks are also continuing. The new representatives of Britain and Germany have reportedly taken part in the Sunday talks.
Speaking to reporters on Saturday after meetings with representatives of the P4+1 group of countries, the Iranian chief negotiator said the sides are resolving the outstanding issues and narrowing down the differences, Press TV reported.
He added that the sanctions-removal talks are moving forward.
Later in the day, Iranian Foreign Minister Hossein Amirabdollahian said reaching a good agreement is possible in the ongoing talks in Vienna if the Western side possesses the required goodwill.
"Iran possesses the required will for reaching a good agreement. We can (therefore) reach a good agreement if the Western side is likewise in possession of such a good faith and will," the top Iranian diplomat added.
During the previous round of the talks, the first under Iran's new President Ebrahim Raisi, Iran presented new proposals at the negotiating table to help the talks move forward and later criticized the European signatories of the JCPOA for failing to follow suit and remaining passive.