Turkish Police Clash with Kurds at Nowruz Festivities in Diyarbakir (+Video)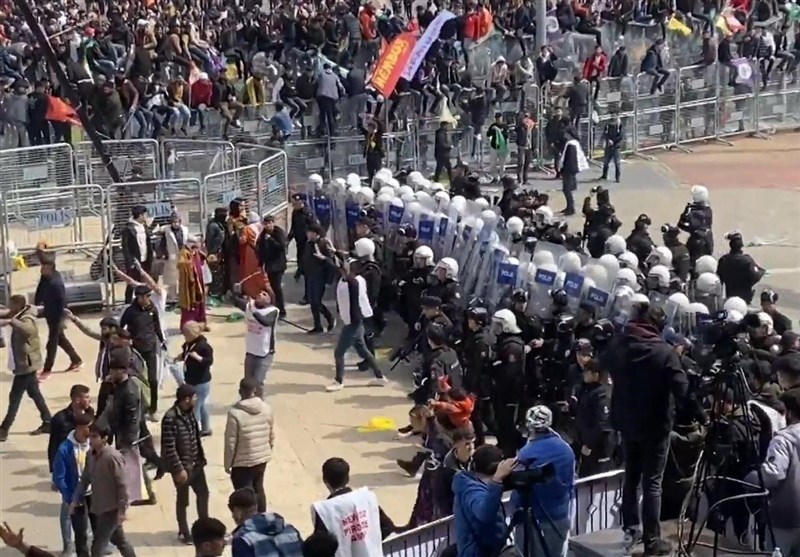 TEHRAN (Tasnim) – Clashes broke out between the Turkish police forces and thousands of Kurdish community members that had gathered for Nowruz celebrations in Diyarbakir.
Footage filmed on Monday features people clashing with police as they gathered to dance and sing on the occasion of the Persian New Year (Nowruz) and at some point, some of them started to throw stones at the police, while the police tried to push back the most active protesters, Turkish Diken news reported.
Celebrators, reportedly, voiced their complaints due to a number of identity checks at the police checkpoints.
According to local media, people face six search points to enter the celebration site. Long queues have emerged in front of these search points.
Every year, Nowruz celebrations are held in the Diyarbakir's "Nowruz Park".
This time, the celebration began at the place from the early hours of morning and the people who attended the celebrations were able to enter the area in the first hours of the day without encountering any obstacles. But, in the following hours, police blocked the entrances at the gates that met with a reaction from the participants.
Thousands of citizens waiting at the gates, argued that the entrances were deliberately blocked.
As the tension increased, the police clashed with the protesters. Those who could not enter the area celebrated Nowruz by lighting fire in the surrounding area and those who attended the festival wearing local clothes were not allowed by the police to take part.