Iran to Respond Harshly to Any Act of Aggression: IRGC Quds Force Chief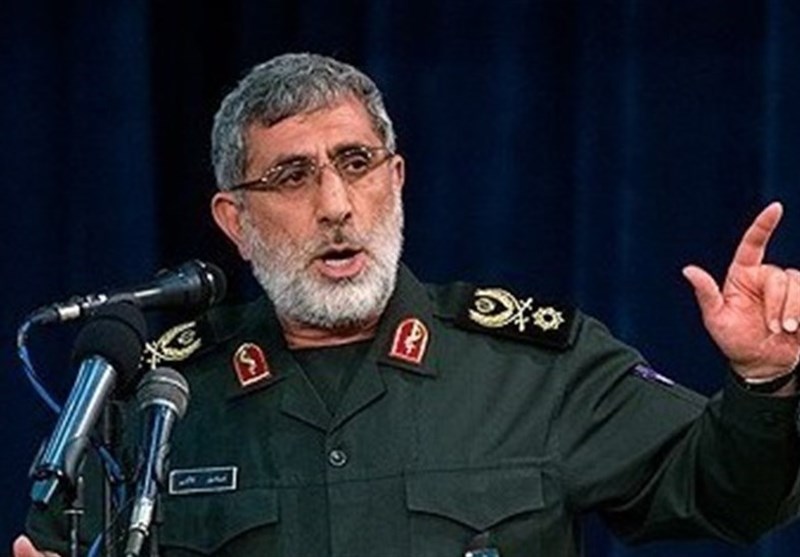 TEHRAN (Tasnim) – The commander of the Islamic Revolution Guards Corps (IRGC) Quds Force reiterated that Iran will harshly respond to any act of aggression.
"If an act of aggression is carried out against the interests of the Islamic establishment anywhere in the world, we will respond with seriousness," Brigadier General Esmail Qaani said on Thursday.
The senior commander also reminded the Israeli regime of the IRGC's forceful missile attack on secret bases of Israel's Mossad spy agency in Iraq's Kurdistan region.
"In Erbil, many people who lived next to you did not know (the attacked site) was your base, but you had been under our surveillance," he said, addressing the Zionists.
The IRGC strike in March targeted "strategic center of Zionist conspiracy and evil" in Erbil in response to an Israeli airstrike on the Syrian capital of Damascus, in which two officers of Iran's elite force lost their lives.
The attack targeted 10 Israeli operatives, killing three of them and leaving seven others wounded.
"Therefore, wherever we identify (an Israeli threat), we will definitely confront the Zionist regime harshly. They are too small to confront us," Qa'ani said.
He added that Iran has supported and will continue to support any group that fights the Israeli regime, emphasizing that the annihilation of the Tel Aviv regime is gaining ground.
With a shaky government at work in Tel Aviv, which is already on the verge of collapse, the downfall of the regime would surely be accelerated, the IRGC commander pointed out.
He noted that Iran knows where and when it should confront the Israeli regime.
"If we have certain reservations, that concerns ourselves and has nothing to do with (concerns) over your power," he said, referring to the Israelis.
The commander paid tribute to the Palestinians who lost their lives in the fight against the Israeli regime and said, "Resistance has now spread across the world."
Qaani pledged Iran's support for all Muslims anywhere in the world in their battle against oppressive powers.
He further advised the "unwise" Saudi officials that they must realize they have been defeated in the war on Yemen despite by all the means they possessed, saying, "This war is not one that benefits them."
He was echoing an advice by Leader of the Islamic Revolution Ayatollah Seyed Ali Khamenei to Saudi officials.
Qa'ani slammed Saudi Arabia's crimes in Yemen, including the destruction of the impoverished country's infrastructures, and said, "We have conclusive and definitive evidence of Saudi crimes."
Ayatollah Khamenei on Tuesday praised the Yemeni people's bravery in countering the Saudi-led aggression, while advising Saudi Arabia to end a war it well knows it cannot win.
"Why do you go ahead with the war that you already know there is no possibility (for you) to win? Find a solution and get yourselves out of this arena," the Leader said, referring to the Saudis.