Regional People Bearing Brunt of US, Europe's Wrong Policies: Iranian Diplomat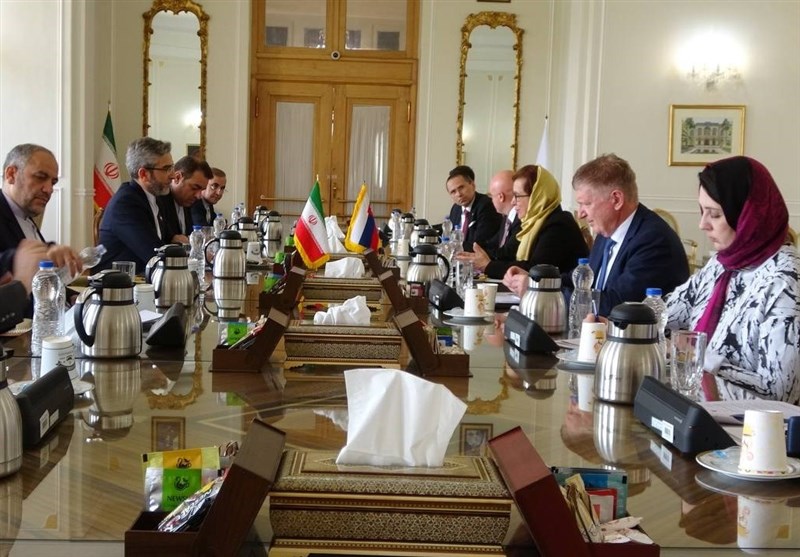 TEHRAN (Tasnim) – An Iranian deputy foreign minister deplored the failed policies of the US and some European states on the region for inflicting heavy costs and damages on the people.
In a meeting with Slovakia's Deputy Foreign Minister Ingrid Brockova in Tehran on Monday, Iranian Deputy Foreign Minister for Political Affairs Ali Baqeri said the global situation has made energy and food security a priority for many countries more than ever before.
Therefore, he added, efforts should be made to make global concerns about "food security" and "energy security", which are two strategic pillars of national security of all countries, an opportunity for interaction, cooperation and even solidarity on the world stage so that all nations have a secure and clear vision for the future.
Baqerialso said that all countries, including Europeans, acknowledge the correct approach and vision of Iran over the past decade or two in trying to resolve issues in Iraq, Afghanistan and Syria.
The Iranian deputy foreign minister said the costs of the failure of the policies of the United States and some European governments in the region are not only borne by these governments, but it's the people of those countries who have suffered the greatest costs and damages resulting from the implementation of these wrong policies.
Explaining the principled position of human rights in the foreign policy of Iran, Baqeri stated, "The dimensions and consequences of meeting the basic needs of the Afghan people, as well as the resulting issues, especially the phenomenon of Afghan refugees, place specific responsibilities on all governments that claim to be protecting human rights, especially the Europeans."
Highlighting Iran's approach to developing relations with European countries, especially Eastern European countries, he said it is necessary to remove obstacles to the development of relations, the Foreign Ministry's website reported.
For her part, Ingrid Brockova emphasized the position of Iran in Slovakia's foreign policy as an important partner for the development of bilateral and regional relations.
She also called for regular consultations between the foreign ministries of the two countries on bilateral, regional and international issues, which, in addition to expanding bilateral and European trade and economic relations with Iran, could also help strengthen people-to-people relations.