At Least 8 Killed As Severe Storm Hits Parts of Canada (+Video)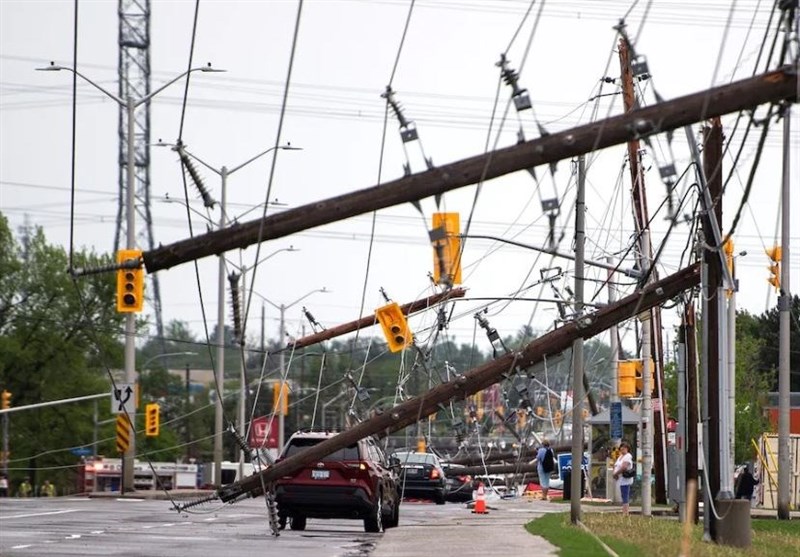 TEHRAN (Tasnim) – A severe thunderstorm brought down trees and damaged homes in parts of southern Ontario and the Greater Toronto Area in Canada on Saturday, with torrential rain and high winds hitting the area.
The death toll from powerful thunderstorms in Canada's two most populous provinces this weekend rose to at least eight, authorities said on Sunday, as emergency crews continued a massive clean-up to restore power to half a million people.
The storms carved a path of destruction from southern Ontario to southeast Quebec, passing close to or directly through three of Canada's four largest cities: Toronto, Montreal and Ottawa.
Pearson International Airport, which serves the Toronto metro area and is the largest airport in the country, measured a wind gust of about 75 mph. Ottawa International Airport, another major hub, also recorded a 75 mph gust, the Washington Post reported.
Environment Canada, the nation's weather and climate agency, reported five deaths and several injuries because of the strong winds. It also reported "extensive damage to trees, power lines and buildings," as well as overturned cars and widespread outages.
At least three of the five fatalities in Ontario and Ottawa were caused by falling trees, according to law enforcement agencies.
Hydro One (H.TO), Ontario's biggest electricity distribution company, said in a tweet on Sunday that crews are responding to significant damage. Environment Canada had issued mobile alerts warning of the severe thunderstorms.
Hydro One crews have restored power to more than 360,000 customers, with over 226,000 customers remaining without power, the company said in a statement late on Sunday.
Restoration efforts are likely to continue for several days before power is restored to all customers, the company said.