Iran Rejects Politicization of Humanitarian Assistance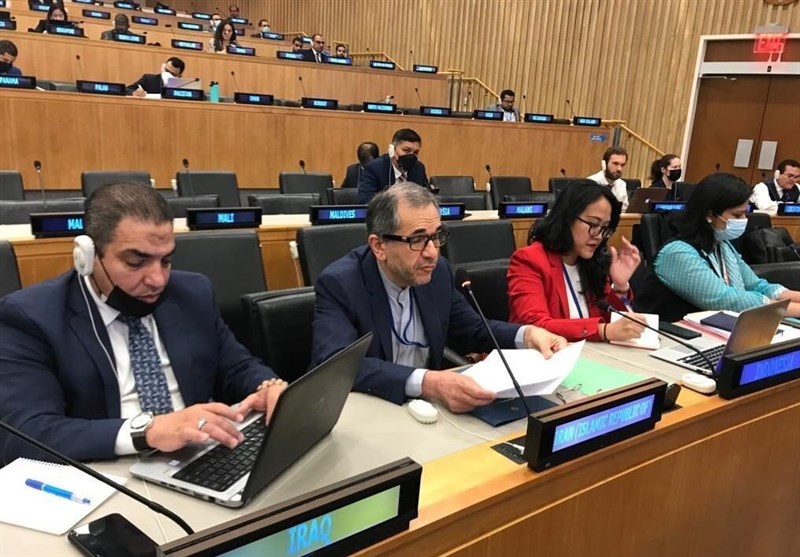 TEHRAN (Tasnim) – Iran's ambassador to the United Nations emphasized the importance of shielding humanitarian assistance from political issues, calling for plans to provide protection to those who are most vulnerable, such as women and children, during armed conflicts.
Majid Takht Ravanchi delivered a speech to a UN Security Council meeting on "protection of civilians in armed conflict", held in New York on Wednesday.
In his remarks, the Iranian envoy stressed the need for the immediate removal of unilateral sanctions, which hamper humanitarian aid delivery in various ways.
The following is the text of his statement:
"In the Name of God, the Compassionate, the Merciful.
Madame President,
The protection of civilians in armed conflicts is a fundamental principle of humanitarian law. However, the international community is witness to the non-compliance of international humanitarian law as well as the lack of accountability for its grave violations.
According to a recent report by the UN Secretary-General, armed conflicts continue to be characterized by a high number of civilian deaths, injuries, and displacements, as well as damaged and eroded critical infrastructure, such as water, sanitation, electricity, and health services, as well as deprivation and hunger. Moreover, medical and humanitarian workers continue to be targeted in different parts of the world.
The COVID-19 pandemic has also exacerbated human suffering and placed additional strains on already overburdened healthcare systems. Vaccines, according to the report, have helped many parts of the world control the pandemic, however, their distribution remains deeply unequal. Nearly 3 billion people are still waiting for their first shot, many of whom live in conflict areas with weakened health systems.
Climate change has also exacerbated conflict-related vulnerabilities such as food insecurity. In addition, sanctions on humanitarian activities, such as obstruction of humanitarian access, bring about negative consequences for civilians in need.
Madam President,
Conflicts have had devastating effects on our volatile region, the Middle East, where international humanitarian law is being flagrantly violated.
In Yemen, according to the SG report, attacks against schools, hospitals, telecommunications infrastructure, roads, factories, houses, and other civilian objects have resulted in acute food insecurity which has worsened, with an 8% increase in the number of people in need compared to early 2021.
Similarly, the humanitarian situation in Palestine has deteriorated as a result of the Israeli regime's decades of occupation and apartheid policies. The systematic, mass killing of civilians, including women and children, continues, with the Occupied Palestinian Territory having the highest number of injured healthcare workers in the world. In Gaza, infrastructure has been damaged, and Palestinians have been deprived of basic services due to the illegal blockade.
In Syria, continuing occupation, terrorism, and unilateral sanctions have displaced millions of people, damaged infrastructures, limited access to vital resources, and disrupted trade and supply of food and agricultural inputs.
Against this backdrop, I would like to emphasize the following points:
1. Humanitarian assistance must not be politicized under any circumstances.
2. Providing protection specifically to those who are most vulnerable, such as women and children, during armed conflicts is critical. In this regard, unilateral sanctions, which hamper humanitarian aid delivery in various ways must be lifted immediately.
3. All medical and humanitarian personnel must be protected.
4. It is necessary to ensure that international humanitarian law is respected, particularly the 1949 Geneva Conventions and additional protocols, which serve as the cornerstone of the legal framework for the protection of civilians.
5. In order to protect civilians, military intervention including blockade, as well as foreign occupation must come to an end. Furthermore, the achievement of a long-term political solution is the only way to keep civilians safe from harm and suffering. In this regard, states must fulfill their obligations under international law to prevent and resolve conflicts peacefully.
6. It is of paramount importance that the UN, in particular the Security Council, demand that the conflicting parties honor their obligations and respect international humanitarian law, in order to spare civilians from further hardships.
I thank you, Madame President."