Israeli Fanatics Hold Provocative Flag March inside Al-Aqsa Mosque Compound (+Video)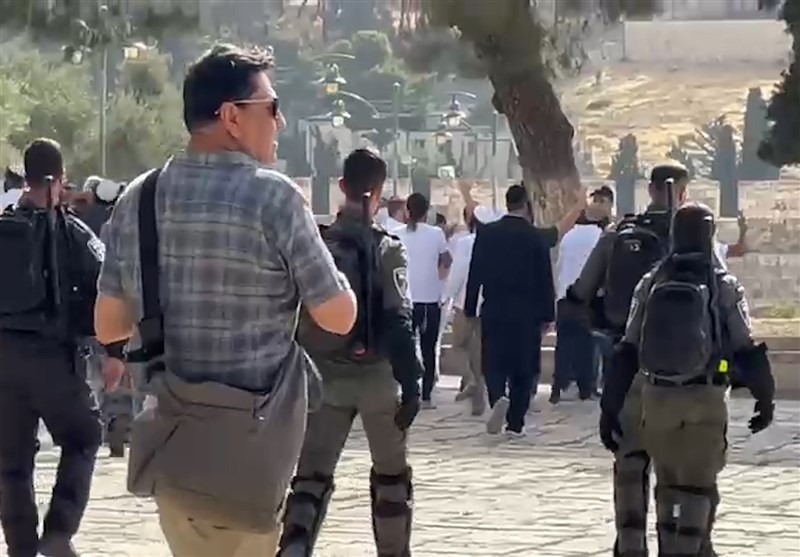 TEHRAN (Tasnim) – Tensions remain high inside the Al-Aqsa Mosque compound in Al-Quds amid a provocative flag march by dozens of fanatics Israeli settlers led by hawkish Israeli MK Itamar Ben-Gvir.
Fanatic Israeli settlers are holding the provocative march inside the Al-Aqsa Mosque compound on Sunday under a heavy police protection.
Hundreds of Israeli settlers amassed outside the compound waiting their turn to be allowed into the highly-tense holy site.
Muslim worshipers chanted slogans in defiance of the provocative tour into the compound by a group of Israeli settlers led by MK Itamar Ben-Gvir.
Palestinians held prayers at the courtyards of the compound in an attempt to obstruct the provocative tour into the holy site but were forced to scatter by the Israeli regime police.
For Palestinians, the parade is a blatant provocation and a violation of their holy site's peace.
Israeli prime minister Naftali Bennett on Friday supported the planned route of the march and shrugged off calls from some members of his coalition to avoid sensitive areas.
Tensions have been rising in the city for weeks.
Repeated clashes took place between Palestinians and Israeli police in the Al-Aqsa compound in April, during the holy month of Ramadan, with Muslims angered by rising numbers of Jewish settlers invading the mosque and disturbing the peace.
Two weeks ago, the funeral of Al Jazeera journalist Shireen Abu Akleh, killed by Israeli soldiers during a West Bank raid, descended into chaos when police charged the mourners.
Calls for a rethinking Sunday's march have been scorned by the Israeli organizers, who deny that the procession, which often features anti-Muslim chanting, is a provocation.