Iranian Envoy Rejects Politicization of Afghanistan's Assets Release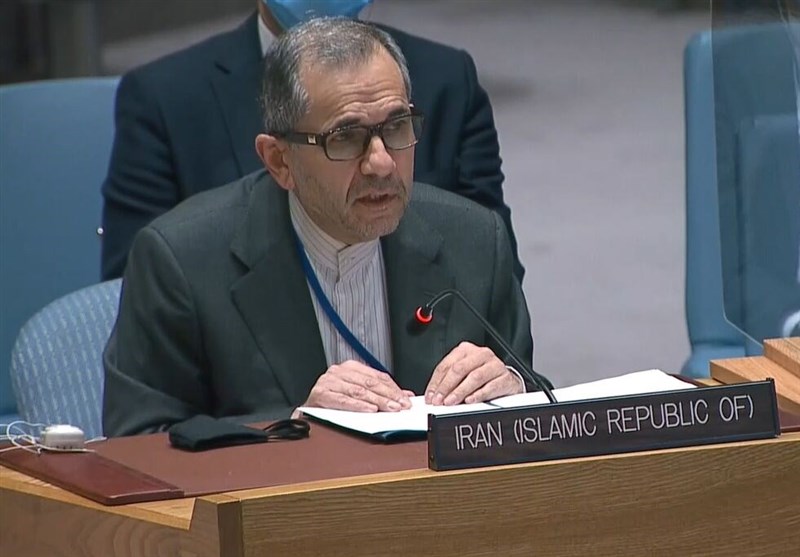 TEHRAN (Tasnim) – Iranian ambassador and permanent representative to the UN, Majid Takht Ravanchi rejected politicization of release of Afghanistan's assets that have been confiscated in the US.
Stressing that the assets belong to the Afghan people, Takht Ravanchi said that their release should not be politicized at a time when the war-torn country is experiencing a dire humanitarian catastrophe.
"As we have repeatedly stated, Afghanistan's frozen assets belong to the Afghan people, and their release, which is crucial for helping the Afghan economy and saving lives, should not be politicized or conditional in any way," Majid Takht Ravanchi said in an address to the UN Security Council on the situation in Afghanistan on Thursday.
"We highlight the need for taking relevant actions, such as reopening channels of financial and in-kind support and resources to the Afghan people, as well as exploring real alternatives for unfreezing Afghanistan's financial assets and improving access to lawful banking services," he added.
The Iranian envoy stressed that sanctions imposed by the UN Security Council on specific individuals and entities in Afghanistan must not impede humanitarian, economic, or developmental cooperation with Afghanistan.
In February, US President Joe Biden signed an executive order that would seize the Afghan assets and move half of them to a fund purportedly designated for humanitarian aid for Afghanistan. However, Biden nodded to legal wrangling with some 9/11 families pursuing claims against those assets as the reason for not trying to free the other half of Afghan funds allegedly for the Afghan people.
The freeze has continued amid Afghanistan's economy being on the verge of collapse, soaring inflation, and millions of Afghans on the brink of starvation.
Takht Ravanchi emphasized the importance of the international community's continued engagement with Afghanistan, particularly in supporting the people's humanitarian and development needs, saying, "We urge the international community, particularly donor countries, to continue to provide all possible and necessary assistance to the Afghan people."
Iran's ambassador and permanent representative to the UN said the Islamic Republic has provided more than 30 consignments of humanitarian assistance to the people of Afghanistan over the past months.
Expressing deep concern over the spike in terrorist attacks in Afghanistan, Takht Ravanchi said, "This trend underlines the international community's continued demand that Taliban must commit to fighting terrorism and ensure that Afghanistan is no longer a safe haven for terrorist groups like Daesh and al-Qaeda that have been responsible for heinous acts of terror, not only in Afghanistan, but throughout the region and beyond."
Elsewhere in his address, the Iranian envoy underlined the need for the formation of an inclusive government in Afghanistan that represents the country's multi-ethnic society, saying, "The people of Afghanistan from different religious and ethnic backgrounds, especially the younger generation who will lead Afghanistan in the future, must be assured that they have a say in the affairs of their country."
"This would not be possible unless an inclusive government is established and sufficient attention is paid to Afghanistan's political and social structures that can involve people from all walks of life, including ethnicities, men, women, and youth."
Takht Ravanchi added that despite repeated international calls, however, the Taliban have "failed to make significant efforts to ensure the government's true ethnic and political inclusiveness. Formation of an inclusive government in Afghanistan is a prerequisite and a critical component for the international recognition."