Iran-Turkmenistan Ties Growing with Mutual Trust: Raisi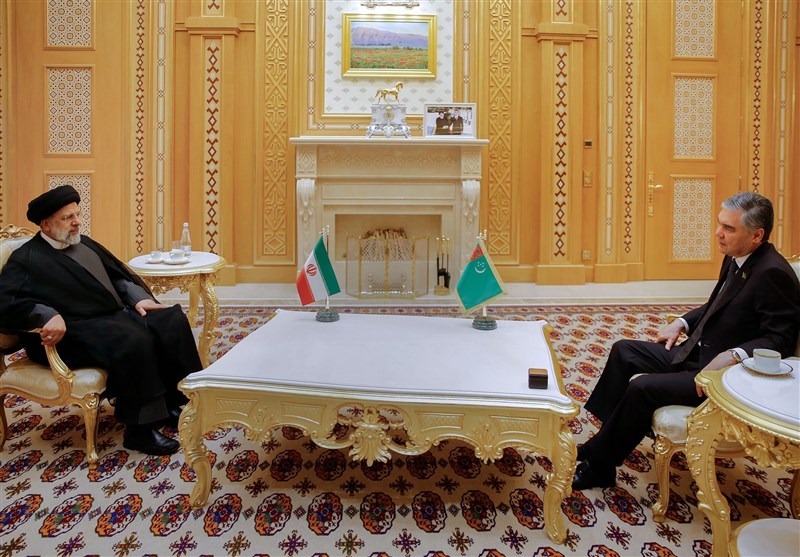 TEHRAN (Tasnim) – Highlighting Iran's policy of expansion of relations with neighbors, President Ebrahim Raisi said the ties between Tehran and Ashgabat are growing rapidly on the basis of mutual trust.
The Iranian president, who has traveled to Ashgabat for the 6th Caspian Summit, held talks with Chairman of the People's Council of Turkmenistan Gurbanguly Berdimuhamedow on Wednesday.
Hailing the 30th anniversary of establishment of diplomatic ties between Iran and Turkmenistan, Raisi said the two neighbors have suitable capacities for the promotion of mutual cooperation.
The Iranian president said his administration has devised special plans in its foreign policy to broaden relations with neighbors, adding, "In this regard, the relations between Iran and Turkmenistan are growing rapidly on the basis of broad cooperation and mutual trust."
For his part, Berdimuhamedow lauded Iran's efforts to strengthen relations with Turkmenistan.
Referring to the commonalities and ample capacities of Turkmenistan and Iran in the political, economic, trade and cultural arenas, the former Turkmen president said his country seeks to open a new chapter in the ties with Iran.
In remarks before leaving Tehran for Ashgabat on Wednesday, the Iranian president referred to the very good relations with Turkmenistan in the past 30 years, stating, "Despite the obstacles that coronavirus and some other issues have created in the relations between the two countries over the past few months, today we see that in addition to transit and gas swaps, strengthening trade and economic relations between the two countries is also on the agenda."