Protesters Rally against Australia's Day of Mourning for British Queen
September, 22, 2022 - 15:29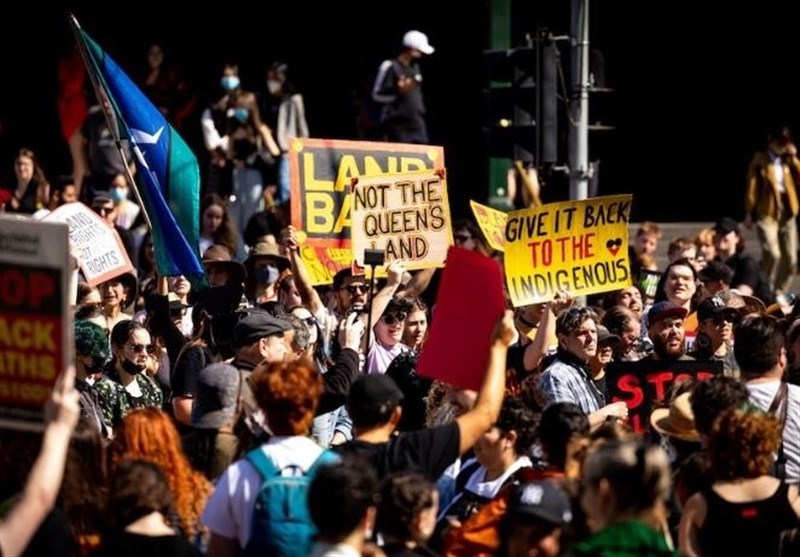 TEHRAN (Tasnim) – Thousands of Australians rallied across Sydney and Melbourne on Thursday to decry colonial Britain's destructive impact on Indigenous peoples, as the country held a public holiday to mark the death of Queen Elizabeth II.
"Abolish the Monarchy" demonstrators gathered in cities including Sydney, Melbourne and Canberra, protesting the persecution of Indigenous people since the British landed in Australia more than two centuries ago.
In Sydney, scores of people came together near a statue of Queen Victoria in the city center before marching through the streets.
Many of the rallies were coordinated by Warriors of the Aboriginal Resistance, which said in a statement it stood "against racist colonial imperialism and its ongoing effects on us as Aboriginal and Torres Strait Islander peoples," ABC news reported.
"While they mourn the Queen, we mourn everything her regime stole from us: our children, our land, our loved one's lives, our sacred sites, our histories," the organization said.
Organizers listed their demands as the return of land "to the rightful sovereign owners", an end to Indigenous deaths in custody, and truth, accountability and justice.
Thousands of people gathered at Birrarung Marr in Melbourne, on Wurundjeri land, before moving through the CBD in protest against the day of mourning.
After a Welcome to Country and smoking ceremony, speakers addressed the building crowd along the Yarra River.
Aboriginal leaders spoke and called for recognition of Indigenous suffering as a result of colonization.
"The monarchy represents everything that's wrong with the world today. The fact that a group of unelected, born-to-rule people, get to live in gold-plated palaces while the rest of us can't even afford heating during the winter. So I think that's why we need to be out here today," protester Brendan Tate told Reuters from the streets of Sydney.
In Melbourne, around 600 protesters led by a group called The Warriors of the Aboriginal Resistance, marched from Flinders Street Station to the British consulate, where they rubbed red-painted hands on the wall.
"Abolish the monarchy - down with the king!" they chanted outside the consulate building while carrying placards and signs.
Thursday was declared a national holiday and a memorial ceremony was held at Parliament House in Canberra for Queen Elizabeth, who died on Sept. 8.