Iran Targeting $3 Billion in Annual Trade with Armenia
October, 22, 2022 - 17:01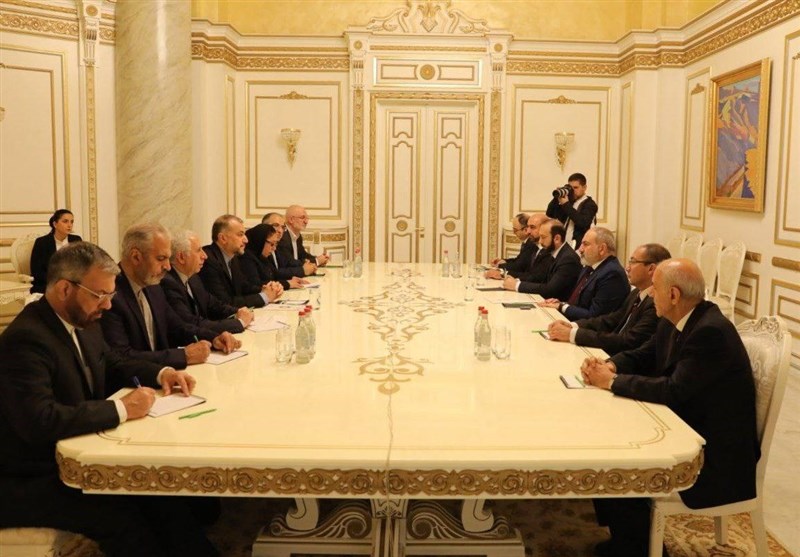 TEHRAN (Tasnim) – Highlighting the great potential for economic cooperation between Iran and Armenia, Iranian Foreign Minister Hossein Amirabdollahian outlined the target of raising the value of annual trade exchanges to $3 billion.
In a meeting with Armenian Prime Minister Nikol Pashinyan, held in Yerevan on Saturday, Amirabdollahian said Iran and Armenia can elevate the value of trade exchanges, which stands at $700 million at present, considering their capacities in various fields, such as trade, energy, agriculture and the swap of electricity and gas.
In the first step, the value of annual trade exchanges should increase to $1 billion, while efforts should focus on raising that figure to $3 billion in the next stage, the foreign minister added.
Highlighting the significance that Iran attaches to the expansion of ties with Armenia, Amirabdollahian said Tehran supports the establishment of lasting peace between Armenia and the Republic of Azerbaijan, the settlement of border disputes, the stability of boundaries, and the territorial integrity of the regional countries.
It is necessary to preserve and promote the North-South Corridor that passes through Armenia, the foreign minister stated, expressing Iran's opposition to any change in the geopolitical conditions or the boundaries across the region.
He also noted that the Islamic Republic is opposed to the presence of foreign forces in the region, stressed the need to use intra-regional opportunities, including the 3+3 South Caucasus Platform, and stated, "The problems in the region must be resolved by the regional countries."
For his part, the Armenian prime minister praised Iran's stances on regional developments and its contribution to the establishment of peace and stability in the Caucasus, voicing Yerevan's readiness for cooperation with Tehran.
Pashinyan also lauded the inauguration of Iran's consulate general in his country's southern city of Kapan, describing it as a testimony to the two neighbors' determination to broaden relations.
Highlighting the common cultural values and the growing interaction between the two countries in the tourism industry, the prime minister said Armenia is prepared to open a consulate general in Iran's northwestern city of Tabriz.