Iranian National among 151 Killed in Seoul Halloween Incident (+Video)
October, 30, 2022 - 10:44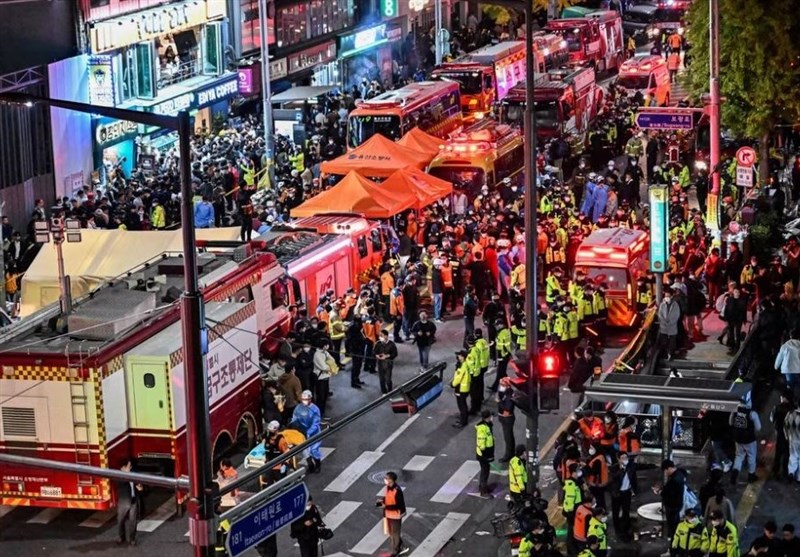 TEHRAN (Tasnim) – At least 151 people, including an Iranian national, were killed and 82 others injured after crowds celebrating Halloween were crushed in an alleyway in the South Korean capital of Seoul.
The deadliest stampede in South Korea's history happened Saturday night in a narrow downhill alley near Hamilton Hotel in the famous nightlife district after tens of thousands of people visited the area for Halloween, Yonhap reported.
As of 9 a.m. Sunday, a total of 151 people, including 19 foreigners, have been killed and 82 others injured, 19 of them seriously, according to Choi Seong-beom, head of the fire department in Yongsan, which includes Itaewon.
Of the deceased, 97 are female and 54 are male, Choi said.
The foreigners killed include those from Iran, Uzbekistan, China and Norway, he said.
The stampede marked the worst tragedy in South Korea since the 2014 sinking of the ferry Sewol that killed 304 people, mostly high school students.
It was the first Halloween event in Seoul in three years after the country lifted many COVID-19 restrictions. Most of the people on the streets were wearing Halloween costumes.
Victims in their late teens and 20s accounted for the age group most affected by the accident, the authorities also said. It is not yet known whether the victims included minors.
Video footage showed rescue workers and ordinary people conducting CPR on victims on the streets.
Fire authorities initially received dozens of reports from people in the Itaewon area about patients with breathing difficulties. The first report was made around 10:15 p.m.
Witnesses and survivors say a massive group of people surged into the downhill alley with a width of about 4 meters and were instantly pushed down by others.
South Korean President Yoon Suk-yeol addressed the nation live from the presidential office, saying Saturday's "tragedy and disaster should never have happened."
The president also announced a period of national mourning over the stampede.