Jahanbakhsh Aims for 2022 World Cup Next Stage
November, 20, 2022 - 12:37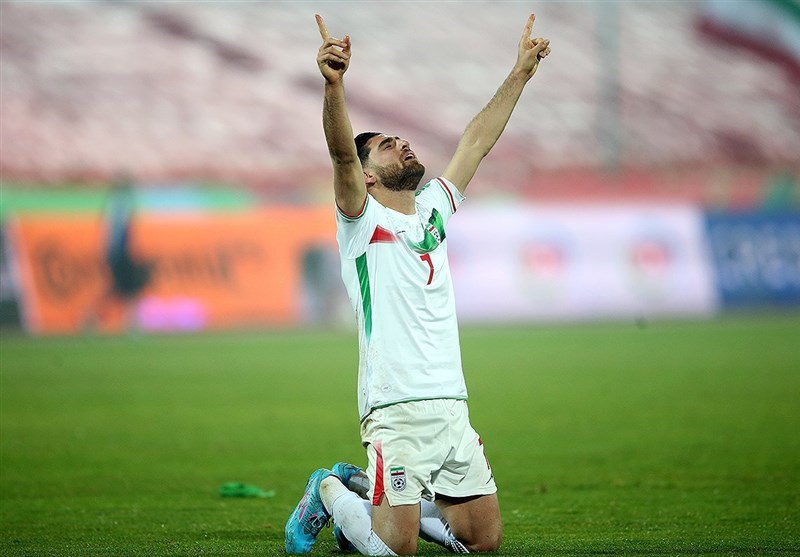 TEHRAN (Tasnim) – Iran winger Alireza Jahanbakhsh says that they want to book their place in the 2022 FIFA World Cup next stage for the first time ever.
Team Melli will open the prestigious campaign against England on Monday.
Iran will also meet Wales and the US on November 25 and 29 in Group B.
"England could have three different national teams at the same time — a lot of quality players. They are one of the favorites to win the World Cup, so that says enough about England.
"It's especially nice for me to play against England, because I've played against most of these players."
Jahanbakhsh told this to The Athletic from a hotel room in the Netherlands as he prepared for another match with Feyenoord, the Dutch club he joined in the summer following three largely frustrating seasons with Brighton.
Jahanbakhsh, Iran's captain during qualification, said: "Some players didn't have a good relationship with Dragan Skocic, the team's former coach. They didn't like the way he was playing. Some players had a very good relationship.
"Usually, in my experience, that's kept in the team. He's making decisions, everyone follows. That's it. Things that happened were unprofessional. I can't mention names, but there were people from outside who wanted to really affect the national team in terms of decisions and stuff.
"Unfortunately, there were players who followed that up, which was quite sad. We, as some of the more experienced players, tried to calm it down. We said, 'OK, we'll stay right in the middle, it's not our decision'. I try to speak to most of the guys. Now is not the time to be messing up things. That just affects us in a negative way.
"Carlos Queiroz knows the players really well, the players know him really well. I've learnt a lot from him as a person and as a football player," he added.
"He was probably the only one that could come in and do the job straight away. He can help us a lot. It's been crazy: making it to the World Cup, new president, new coach, new ideas…"
The motivation for Jahanbakhsh is clear in his third World Cup. Iran never qualified for the knockout stages in five previous attempts, stretching back to their debut in Argentina in 1978.
"That's something everybody talks about," stated Jahanbakhsh. "I'd be lying if I said the aim wasn't to make it to the next round. That's 100 percent one of the biggest goals we have as players, the team, coaching staff, the nation. We're going to work hard for it."