Protesters Gather in Istanbul to Condemn Quran Burning in Stockholm (+Video)
January, 23, 2023 - 14:43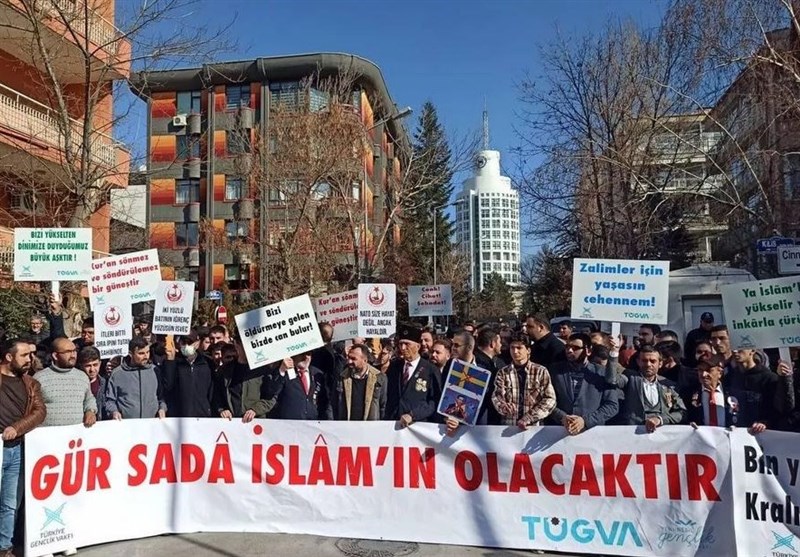 TEHRAN (Tasnim) – A protest was held in front of the Swedish embassy in Ankara over the burning of the Quran in Stockholm.
The Sunday event was organized by the Turkish Youth Foundation (TUGVA) and attended by dozens of people.
The participants chanted slogans such as "NATO is only a dream for you now", "Sweden is the ugly face of the two-faced West", "The Quran is the Sun that never goes out", and "He who came to kill us will find his end here".
Earlier, Ankara urged Swedish authorities to "take necessary measures against the perpetrators of this hate crime" and invite all countries and international organizations to take a stand against Islamophobia.
On January 19, Turkish President Recep Tayyip Erdogan said that Sweden and Finland must extradite about 130 activists and supporters of the Kurdistan Workers' Party (PKK) - labeled a terrorist organization in Ankara - to Turkey if those countries wanted Turkey to ratify their NATO bids. On Saturday, Turkey unilaterally canceled the imminent visit of Swedish Defense Minister Pal Jonson to Ankara, where he was supposed to discuss Stockholm's application for join NATO.