Hundreds of Tractors Enter Paris in Protest against Pesticide Bans
February, 08, 2023 - 15:12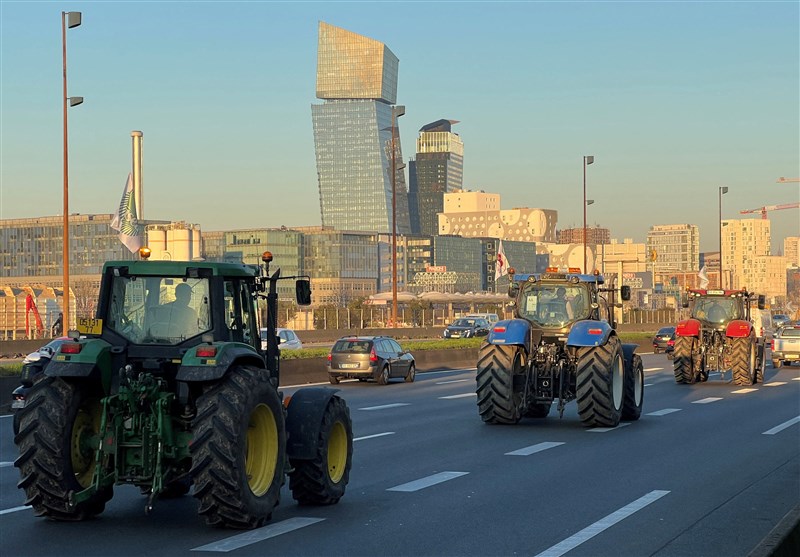 TEHRAN (Tasnim) – French farmers drove hundreds of tractors into Paris early on Wednesday to protest against pesticide restrictions and other environmental regulations they say are threatening farm production in the European Union's largest agricultural power.
The action follows an EU court ruling last month that overturned a French policy allowing sugar beet growers to use a banned insecticide, raising concern from sugar beet growers of a further decline in plantings and sugar factory closures.
"These repeated bans and the inaction of the government to support many sectors (cherries, apples, chicory, potato starch) condemn agricultural production," France's largest farm union FNSEA, sugar beet union CGB and young farmers group JA said in a statement, Reuters reported.
They warned imports of crops not subject to similar pesticide restrictions would threaten French jobs.
Environmental activists say pesticide residues cause damage to the soil and wildlife.
Unions were expecting 500 tractors and 2,000 farmers from around Paris to join the protest. It was too early to confirm the numbers, a spokesman for the CGB said.
Tractors, some of which carried banners saying "(French President Emmanuel) Macron is liquidating agriculture" and "save your farmer", were scheduled to end their procession in front of the Invalides monument, near France's Agriculture Ministry.
Farm union representatives were due to meet French Agriculture Minister Marc Fesneau during the morning.