Belt and Road Initiative Reflects Iran, China's Resolve to Cement Ties: Raisi
February, 15, 2023 - 15:00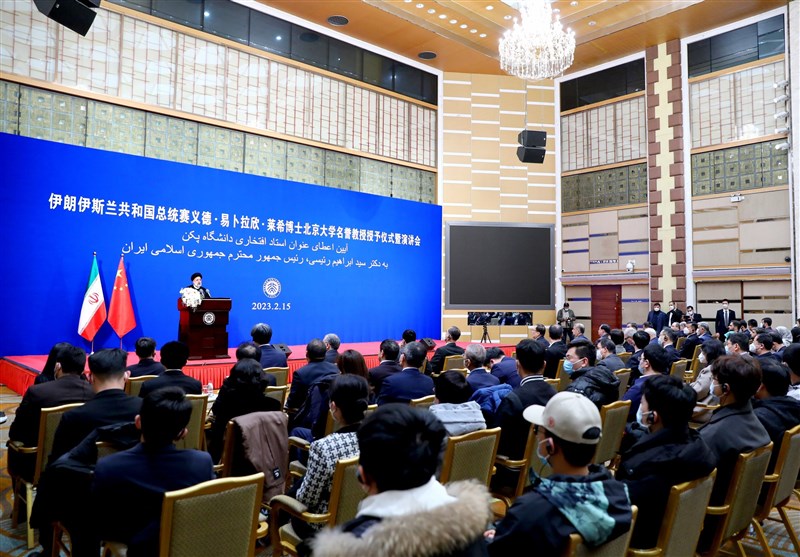 TEHRAN (Tasnim) – Iranian President Ebrahim Raisi hailed the revival of China's major infrastructure development project 'One Belt One Road' as proof that Tehran and Beijing are determined to strengthen their friendship and develop a strategic partnership.
In an address to a group of professors and students at Peking University in Beijing on Wednesday, Raisi said Iran welcomes the Chinese government's One Belt One Road initiative.
"With the revival of this initiative in the modern world, the two (Iranian and Chinese) nations have once again demonstrated their fierce determination to strengthen friendship and take firm steps in the path to homogenous development and strategic partnership to form a promising future for the human society's prosperity," he added.
Pointing to the formation of a new world order, the Iranian president said the modern world seeks genuine multilateralism, maximum synergy and correlation and also defies unilateralism in order to achieve fair order.
He underlined that Iran's power contributes to security, adding that the Islamic Republic's regional capacities are in favor of peace and stability and against the threats posed by the hegemonic powers.
"One of the Islamic Republic of Iran's strategic successes is overcoming ultra-national challenges such as terrorism and extremism in West Asia," the president stated.
Raisi is visiting Beijing at the official invitation of his Chinese counterpart Xi Jinping.