Iranian President Joins Chinese Muslims for Prayers at Historic Beijing Mosque
February, 16, 2023 - 14:20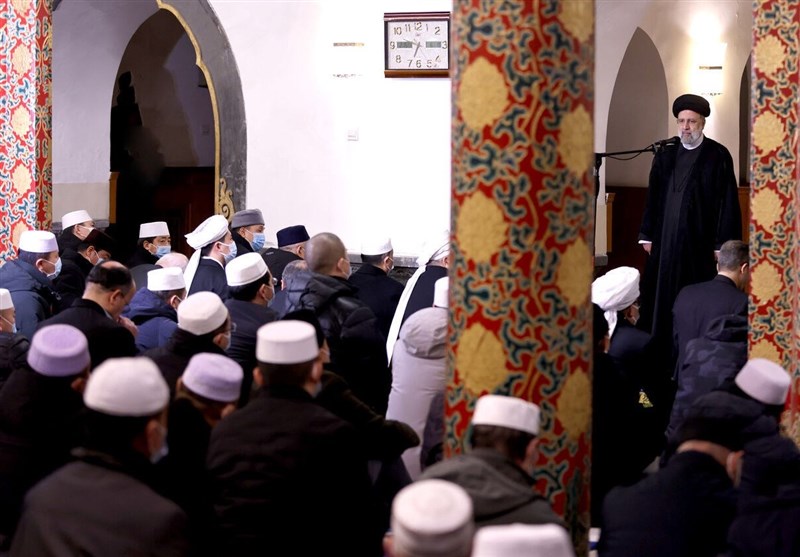 TEHRAN (Tasnim) – Iranian President Ebrahim Raisi visited the Dongsi Mosque in Beijing on Wednesday as part of his three-day trip to China, before returning to Tehran on Thursday.
The Iranian president participated in the Maghrib and Isha prayers with the local Chinese Muslims in the 500-person prayer hall, where he gave a speech to the congregation.
"It's an honor to join the local Chinese Muslims in prayer at this historic mosque," Raisi said.
He also said that the United States is responsible for creating Takfiri terrorist groups and promoting insecurity in West Asia. He stated that the US hostility towards Iran is due to the country's independence, and that despite all the animosity, the Islamic Republic has become stronger than before.
He also praised the growing relations between Iran and China, stating that the two countries have the potential to develop ties in various fields.
The Dongsi Mosque, built during the Yuan Dynasty in 1356 AD, features a structure with two gates, a dome, a prayer hall, and more. The mosque is built in the Ming Dynasty style and houses many cultural and valuable artifacts. The mosque's library preserves various copies of the Quran, including one of the most valuable handwritten copies from the Yuan Dynasty.
The mosque is also the headquarters of the Beijing Islamic Association.