Massive Anti-NATO Rally Held in Slovakia (+Video)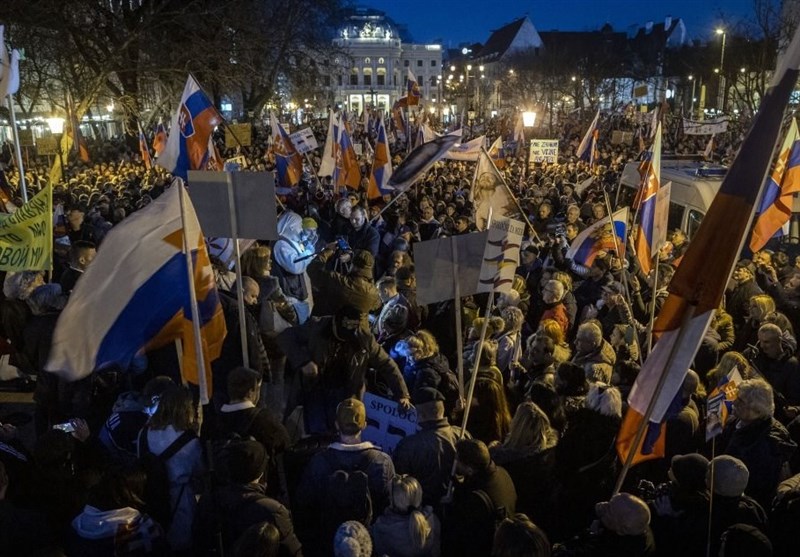 TEHRAN (Tasnim) – Hundreds of anti-NATO protesters flocked to the streets of Bratislava to join a 'March for Peace' rally for peace and against arms deliveries to Ukraine as well as Slovakia's military neutrality.
The protesters voiced their support for peace and chanted anti-American slogans as they marched to the US embassy.
Carrying anti-NATO placards, protesters could be heard criticizing NATO and demanding an end to sending military aid to Ukraine by holding banners such as 'Weapons support war'.
A counter-protest organized by pro-Ukranian activists also took place.
The demonstration began in front of the palace of Slovak President Zuzana Caputov, who is known for her pro-American stance and support for liberal values. The protesters demanded an end to the military cooperation agreement between Slovakia and the US, which they say contributes to Russophobia.
Caputov's reaction to the ongoing protests has been negative, as the demonstrators call for an end to military aid to Ukraine. She has been a vocal supporter of Ukraine in its conflict with Russia, and has authorized the transfer of weapons and other support to Ukrainian armed forces.
The Slovakian president also supports Ukraine's bid to join NATO and the European Union, and has personally expressed her support for Ukrainian President Vladimir Zelensky during a visit to Kiev in May 2022.
Slovakia has been a member of NATO since 2004. The country reportedly hosts a battlegroup including troops from US, Germany, Poland, the Netherlands, Slovenia and the Czech Republic.
NATO allies have reportedly pledged a total of 48 Leopard 2 tanks to Ukraine, so far. Germany, Poland, and Portugal are some of the countries which have supplied weapons to Kiev.