Belarus Eager to Use Iran's Experiences in Countering Sanctions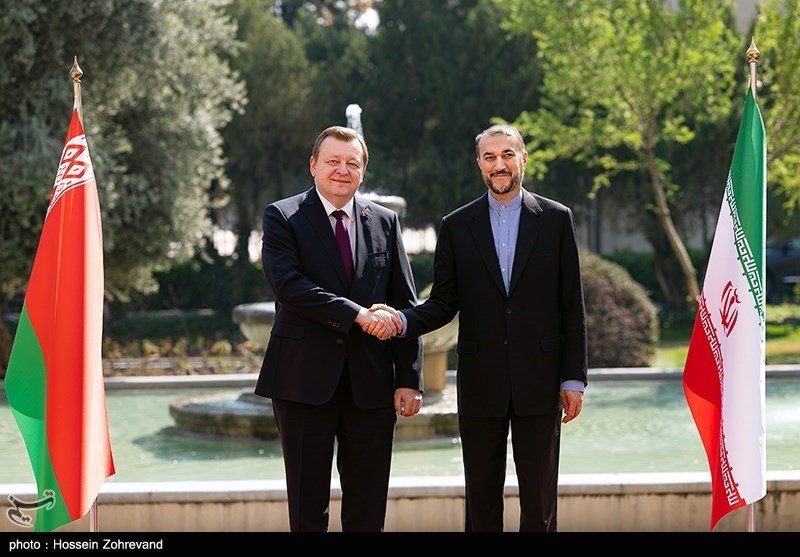 TEHRAN (Tasnim) – Foreign Minister of Belarus Sergei Aleinik expressed his country's willingness to take advantage of Iran's experiences in dealing with the illegal sanctions imposed by the Western governments.
In a meeting in Tehran on Sunday, the senior Belarusian diplomat and his Iranian counterpart Hossein Amirabdollahian discussed a broad range of issues, from the economic and political cooperation between the two countries to the regional and international developments.
Aleinik announced in the meeting that Belarus is eager to use Iran's experiences in thwarting the illegal foreign sanctions.
Pointing to an increase in the trade exchanges between Tehran and Minsk, the Belarusian foreign minister said his country seeks to use Iran's railroad network to transfer its export products to the global markets.
Amirabdollahian, for his part, hailed the economic agreements signed between Iran and Belarus, calling for intensified efforts to carry out the deals and promote cooperation between the two states in implementing the joint industrial projects.
Following the ministerial meeting, President of Belarus Alexander Lukashenko arrived in Tehran on Sunday night.
Heading a high-ranking delegation, the Belarusian leader is in Iran to hold talks with senior Iranian officials on the most important mutual and international issues.
Lukashenko's visit is aimed at developing comprehensive cooperation and conducting negotiations on industrial, agricultural, and transportation projects as well as discussing regional and global issues, Press TV reported.